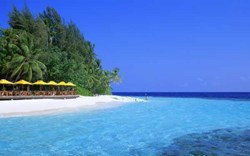 "I tell everybody I meet up here they need a place in Playa!" - Robin Finley
Playa del Carmen, Mexico (PRWEB) January 22, 2014
Canada2Playa has announced a strategic alliance with members of the oil industry in the Fort McMurray (Regional Municipality [R.M.] of Wood Buffalo) area.
Fort McMurray is a boomtown in terms of growth and most of that growth has been a direct result of the oil industry.
In 1967, the Great Canadian Oil Sands (now Suncor) plant opened and Fort McMurray's growth soon took off. More oil sands plants were opened up, especially after 1973 and 1979, when serious political tensions and conflicts in the Middle East triggered oil price spikes. The population of the town reached 6,847 by 1971 and climbed to 31,000 by 1981, a year after its incorporation as a city.
The R.M. of Wood Buffalo's 2012 municipal census reported a population of 72,944 in Fort McMurray.
According to historic municipal census data, Fort McMurray experienced an average annual growth rate of 6.1% between 2000 and 2010.[28] The R.M. of Wood Buffalo estimates the population of Fort McMurray to increase to 133,000 by 2028.
With Fort McMurray being located in the extreme northern part of Canada, combined with a high demand for labor, workers in the oil industry have found average salaries for tradesmen well over $100K per year and more.
Many workers are wondering how to make best use of their new-found windfall. Some have decided a new top of the line truck is for them, others choose various new toys such as snowmobiles and ATVs.
Some workers however, have opted to use some of their money to invest and play abroad. Workers such as Robin Finley, who found his escape to paradise in Playa del Carmen, Mexico.
"It's the polar opposite of northern Canada and just the getaway I need after working a crushing amount of hours in the freezing cold," says Robin. "I really get a chance to escape and unwind in a true paradise on earth – warm blue waters, white sandy beaches and women in bikinis… what more could a guy want?"
Robin Finley has become a staunch advocate of the Caribbean Living development in Playa del Carmen, where condos start at $59,000 USD. "I tell everybody I meet up here they need a place in Playa!"
"This is a perfect opportunity for these guys. Taking a break is important and this offers a true escape from the cold, plus a great way to invest their hard earned money," says Leah Campbell, broker for Canada2Playa and native Canadian. "With Playa del Carmen being the fastest growing city in Latin America, the appreciation on property values has started to surge, making investment here a financially sound decision and emotionally healthy as well for a vacation getaway."
For more information about what Playa del Carmen can offer Canadians, please visit Canada2Playa.com.