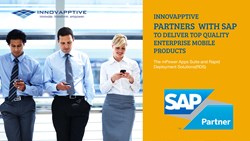 Rapid-deployment solutions are ready-to-use combinations of best-in-class software, pre-configured content and pre-defined services
Houston, TX (PRWEB) January 23, 2014
Innovapptive, an SAP® mobile application development and services partner, today announced its SAP® qualified rapid deployment solution for SAP Fiori, SAP Mobile Apps and the SAP® Mobile Platform. The solution combines Innovapptive's SAP certified mPower AppSuite, SAP® mobile apps, and the SAP® Mobile Platform content with implementation services from Innovapptive for a pre-configured solution to reduce risks and help clients achieve benefits quickly and affordably. Innovapptive will install SAP® and Innovapptive mobile solutions with predetermined time, cost and service scope.
"Our clients are looking to yield the benefits of their SAP® mobile investments more quickly than ever before. Accelerating their time to market is of paramount importance to our customers and the SAP® mobile rapid deployment solution provides the perfect platform to achieve this goal," says Sri Karthik, Senior Vice President, Sales and Marketing, Innovapptive Inc. "We're proud to be one of the first few to be qualified on the SAP® mobile rapid deployment solutions. We look forward to putting our skills to work to provide a high value proposition to our customers."
Rapid-deployment solutions are ready-to-use combinations of best-in-class software, pre-configured content and pre-defined services that have been specifically tailored to industries or Line of Business needs, all at a fixed price with fixed implementation time. They offer a quick, cost-effective method for standardizing processes and adopting the latest innovations in mobility and in-memory analytics with fewer migration risks. The average timeframe for a typical deployment is less than 60 days, which helps customers lower the cost of implementation and speed time to value, while retaining the flexibility to extend the solution wherever needed.
Innovapptive is a leading SAP® mobile application development partner with the highest number of SAP certified partner mobile apps on the SAP store. Innovapptive continues to build a suite of SAP certified mobile apps to reduce customers time to market, operation & support costs and quickly realize the benefits of their mobile infrastructure investments.
For more information regarding Innovapptive's SAP Qualified Rapid Deployment Solutions or its mPower™ AppSuite, please call 1-(713)-300-3762 or email Innovapptive sales team at sales(at)innovapptive(dot)com.