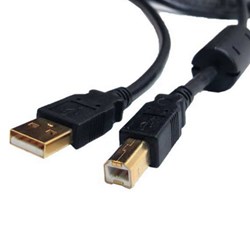 We know many of our customers have USB 2.0 ports in their laptops, personal computers, and other devices. This is why we continue to support network cables, converter adapters, and extension cables for USB 2.0
Hayward, CA (PRWEB) January 23, 2014
SF Cable, an established wholesale distributor of computer cables, laptop accessories, and home theater products, has recently explained the major differences between USB 2.0 and USB 3.0. Maintaining its aim to provide its customers with quality products, the company not only diversifies its range of products, but also offers guidance to help them make the right choice.
When asked about the need of introducing USB 3.0 networking cables, the official representative of SF Cable stated, "USB 3.0, being the most recent version of Universal Serial Bus standard, offers better power management and greater speed than any previous version. We want our customers to enjoy its effective features to the fullest. This is why we've expanded our product range and included extension cables, repeater cables, and power connectors for USB 3.0 in our offerings."
According to the spokesperson, the transmission speed of USB 3.0 is much better than that of USB 2.0. "While USB 2.0 presents transfer speed of 480 Mbps, USB 3.0 offers nearly 4.8 Gbps. Speed is not the only attraction of USB 3.0. It involves a set of data paths where one is reserved for data transmission and the other is for data reception. USB 2.0, on the other hand, can either transmit or receive data at any time", he further added.
When inquired to explain why SF Cable still offers an extensive range of USB 2.0 cables and products, the spokesperson clarified, "We know many of our customers have USB 2.0 ports in their laptops, personal computers, and other devices. This is why we continue to support network cables, converter adapters, and extension cables for USB 2.0."
SF Cable claims to present a vast range of cables and accessories for USB 2.0 as well as USB 3.0. Though USB 3.0 device is backward compatible with USB 2.0 port, it may not be able to perform at its optimal speed. To learn more about the product range of SF Cable, please visit http://www.sfcable.com/.
About SF Cable
SF Cable is a leading wholesale distributor of quality products, including computer cables, home theater equipment, laptops, and security products. Rendering valuable services since 2002, SF Cable has been serving as a one-stop shop for premium cables and accessories at wholesale prices. The company is trusted for its superior solutions, supreme services, varied offerings, and prompt customer services. Featuring over 8000 SKUs of components, accessories, and cables for consumer electronics and computer systems, SF Cable is known to support all its cables and non-electronic products with exclusive lifetime warranties.
SF Cable maintains a huge volume of inventory. This helps the company ship almost all orders received by 4:30PM PST the same day. Also, SF Cable doesn't demand any minimum and restocking charges.
Contact Details
SF Cable, Inc.
28300 Industrial Boulevard Suite F
Hayward, CA 94545-4439
Toll-Free: 888-275-8755
Local: 510-264-9988
Fax: 510-264-9989