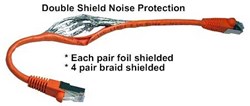 We use 100% pure copper wire and gold-covered RJ45 plugs in our network cables to ensure their performance and reliability.
Hayward, CA (PRWEB) January 24, 2014
SF Cable, a leading wholesale supplier of security accessories and computer cables, has recently disclosed its success formula to the general public. The company has revealed the primary features of their manufactured network cables to help their customers distinguish between ordinary cables and SF Cable's cables.
When asked to highlight the key features of SF Cable's network cables, the company's official spokesperson said, "Since its establishment in 2002, our company has been offering quality cables at affordable rates. We have once again facilitated our clients by explaining the major differences between normal cables and SF Cable's cables. We use pure copper wire and gold-covered RJ45 plugs in our network cables to ensure their performance and reliability. Unlike some other cable manufacturers, we avoid using copper clad aluminum wire (CCA)."
SF Cable claims to abide by the most stringent cable standards. According to the spokesperson, the company avoids using CCA in its network cables because it is not approved by the CENELEC, IEC, or 3P. SF Cable designs an array of network cables for varied applications. "Our comprehensive range of network cables includes CAT5E, CAT6, CAT6A, fiber optics, and other forms of cables. Our cables are designed to be safely used with hubs, switches, network adapters, patch panels, routers, and several other networking applications", the spokesperson further added.
While explaining the major elements involved in SF Cable's network cables, he stated, "We use 100 percent pure copper wire to manufacture our network cables to offer enhanced tensile strength and noise reduction. Inclusion of gold-covered RJ45 plug is vital to maintain optimal conductivity. SF Cable's network cables also have TIA/EIA T-568B certification. We take great pride in our manufactured products. This is why we offer lifetime warranty for all our network cables." To learn more about Why SF Cable use 50 micro RJ45 plug, visit: http://www.sfcable.com/50-micron-plug.html
The company claims to offer custom solutions at the most competitive rates. Please visit http://www.sfcable.com/networking-cables.html to learn more about the SF Cable's variety of network cables.
About SF Cable
SF Cable is a leading wholesale distributor of quality products, including computer cables, home theater equipment, laptops, and security products. Rendering valuable services since 2002, SF Cable has been serving as a one-stop shop for premium cables and accessories at wholesale prices. The company is trusted for its superior solutions, supreme services, varied offerings, and prompt customer services. Featuring over 8000 SKUs of components, accessories, and cables for consumer electronics and computer systems, SF Cable is known to support all its cables and non-electronic products with exclusive lifetime warranties.
SF Cable maintains a huge volume of inventory. This helps the company ship almost all orders received by 4:30PM PST the same day. Also, SF Cable doesn't demand any minimum and restocking charges.
Contact Details
SF Cable, Inc.
28300 Industrial Boulevard Suite F
Hayward, CA 94545-4439
Toll-Free: 888-275-8755
Local: 510-264-9988
Fax: 510-264-9989