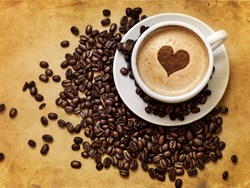 Coffee should be black as hell, strong as death, and as sweet as love.
(PRWEB UK) 22 January 2014
A day hasn't ever truly begun without that delicious morning "cuppajoe". Coffee, that deep, aromatic, tiny-piece-of-heaven kind of a drink, has an undoubted fan following all over the world. Whether you have your coffee black, creamy, smooth, flavored, caramelized or for the really adventurous..mixed with green tea in it, every coffee lover surely believes in the magical powers of coffee. It can cure that hang over, it can keep one awake through a ridiculous meeting, it can help one function with just 4 hours of sleep, it can make life-changing conversations happen and it can guide...travel?
Yes it can! JoGuru has traveled far and wide to find the ultimate Travel Bucket List for Coffee Lovers. Sample these 10 Unique Cups of coffee that are sure to make you want to pack your bags and biscotti to enjoy the delectable delights and amazing ambience on offer.
1. The Authentic Cup at The coffee shop without a name, Istanbul: Not many people know that coffee shops are actually an old Turkish Tradition. An old Turkish proverb descirbes the authentic cup of coffee like this "Coffee should be black as hell, strong as death, and as sweet as love". That authentic feel today can still be experienced at Corlulu Alipasa Medresesi in Istanbul where you can enjoy that perfect cuppa under their domed ceiling decorated with cascading chandeliers.
2. The Intellectual Cup at the Café Central in Vienna: This café is not just a great coffee place it also happens to be one of the most historic places in the world. If one could turn back the time Midnight in Paris style, one would find the likes of Sigmund Freud, Leon Trotsky, Rudolf Carnap and Vladimir Lenin enjoying their favorite cuppa at one of the tables.
3. The Catty Cup at Le Café Des Chats, Paris: This charming cafe in stunning Paris, offers the chance to have a pet for a couple of hours while you sip your coffee. What could be better than a rainy day, a hot cup of coffee and a tiny little fur-ball curled up on the lap?
4. The Relaxed Cup at the Hammock Café in Tokyo: Couches and Chairs are too main-stream for the folks at the hammock café. The seating here exclusively consists of hammocks. So the patrons swing languidly on their seats as they sample the delicious fare and the aromatic coffee.
5. The Nostalgic Cup at the Café Greco, Rome: This Place is a must visit just for the amazing décor. This charming café that was opened in 1760 and the interiors are regal and very beautiful. More importantly it was and still is a hub for artists, poets and writers who find the nostalgic décor very inspiring and as would the tourist.
6. The Scientific Cup at the Grounds in Alexandria (Australia): This coffee place has the most amazing interiors with wood paneling and bright yellow chairs that adorn in. But that isn't what makes it special. There is a "Coffee Research" Centre right next to it which makes your coffee experience very scientific. One can learn about the coffee making process, sample the beans or just enjoy a delicious concoction.
7. The Royal Cup at Café Majestic in Porto: One would think one would find the royal cup somewhere in London, but the most regal cup of coffee is to be found in Portugal. Café majestic lives up to its name and makes it possible to enjoy that coffee like a royal. The mirrors and the chandeliers only add to the amazing experience.
8. The Vintage Cup at the Vintage Emporium in London: London has this delicious treat to offer to coffee lovers. This coffee shop doubles up as a collection of unique and eccentric antiques. Enjoying a cup of fresh coffee while looking at these oddities is sure to be a delight.
9. The Artsy Cup at Joe Coffee in New York City: Joe Coffee has a self-proclaimed dedication towards the coffee-making. Although they have several branches, this one in West Village has that rustic café feel and the whole world's caffeine wisdom leaving the traveler entirely satisfied.
10. The Sunny Cup at Confeitaria, Rio de Janeiro: What would make any coffee lover's experience better? Well, what makes everything better? The Beach, of course! This amazing place in Brazil serves up, not just coffee but also stunning views of the famous Copacabana beach. The sun, the shade, the palm trees and coffee. This unique combination certainly gets a two thumbs up.
With so many place to see and coffees to sip it's going to be a long trip around the world. The million dollar question is how far are you willing to go for your coffee?