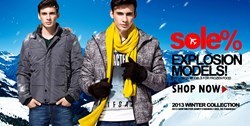 (PRWEB) January 27, 2014
Recently, Skmen.com, China's favorite clothing store, has released its latest assortment of cardigan sweaters for men. In addition to that, the company has started its New Year special offer on these soft and comfortable items. At the moment, all new and old clients can get a discounted price, up to 43% off.
As is known to all, Skmen.com is famous for its high quality and fashionable clothes, including cardigan sweaters, hoodies, men's tweed coats, sweatshirts, skinny jeans and many others. Its products are available in a lot of trendy styles. Therefore, the company enjoys a great reputation in the international market.
According to the marketing specialist of the company, all the brand new cardigan sweaters are of top quality. They can create a handsome look for their wearers. He says, "We are excited to announce our fresh sweaters. They are offered in various colors and sizes. More importantly, they are both impressive and affordable. Those who want to seize the great opportunity to get top quality cardigan sweaters for men should visit our website before February 14, 2014."
What's more, the company has thousands of happy customers. Most of them like the company's products very much. Its online representatives are kind; they always answer questions patiently.
About Skmen.com
Skmen.com, a China-based company founded in 2009, is one of the leading suppliers of men's and women's high quality clothes. Also, it offers pretty cell phone accessories. The company has more than 5000 customers from every part of the world, helping the people develop self-esteem, confidence and love of learning.
For more details, readers can visit http://www.skmen.com/product-cardigans-sweaters-009004.aspx.