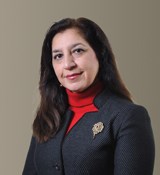 This came as a complete surprise. I am delighted to be shortlisted and want to thank those who nominated me. If this allows me to do my work better, and right even more wrongs, it will be worth it for that alone
London, United Kingdom (PRWEB UK) 21 January 2014
The British Muslim Awards, presented by the Islamic Bank of Britain, was established in 2013 and founded by Oceanic Consulting. The event, which will take place on 30th January 2014 at the Salford City Stadium, Manchester, is an annual award ceremony that honours the success and achievements of Britain's leading Muslim individuals, groups and businesses.
The evening is one renowned for its recognition and celebration of members of Britain's Muslim communities who have made a positive impact via their work.
The awards event in 2013 was deemed a "phenomenal success" and saw a turnout of over 600 individuals.
Aina Khan, Head of Duncan Lewis Solicitors Islamic Law Department and Family Solicitor has been shortlisted as a finalist in the ' Services to Law ' category in recognition of her pioneering work in providing solutions which work under both Islamic and English Law. Her current campaign is the 'Muslim Marriages Project' with the aim of protecting Muslim families against a lack of basic legal rights.
Aina said:
"This came as a complete surprise. I am delighted to be shortlisted and want to thank those who nominated me. If this allows me to do my work better, and right even more wrongs, it will be worth it for that alone'.
About Duncan Lewis
Duncan Lewis, established in 1998, is the largest civil legal aid practice in the UK and one of the country's fastest growing firms of solicitors, serving both corporate entities and private individuals from offices across London and throughout the UK. A recommended leading law firm by Law Society Lexcel, Legal 500; Duncan Lewis employs over 500 members of staff and was the first law firm to achieve the Investors in People Gold Quality Standard Mark in 2009. Representing over 25,000 clients per year, the company has an excellent reputation in the Administrative Court, High Court and Court of Appeal in the Immigration, Public law and Family/Child Care jurisdictions.
Established areas of law are: business immigration, child care, civil liberties, clinical negligence, community care, crime and fraud, dispute resolution, debt and insolvency, employment, family and divorce, housing, asylum and immigration, litigation, mental health, personal injury, prison law, professional negligence, public law and administrative law, regulatory matters and welfare benefits.