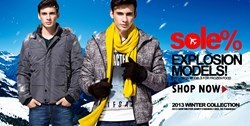 (PRWEB) January 29, 2014
Recently, Skmen.com, a popular clothing manufacturer based in China, has released its new selection of long sleeve T-shirts for men. As a celebration of the New Year, the company has launched a special offer on these trendy clothes. Before February 18, all new and old clients can enjoy a discounted rate.
As part of the company's comprehensive clothing solution, it has already listed these newly released long sleeve T-shirts at its online store. Its major officials always put customer needs in the very first place. Before making the new items, its researchers spent a lot of time collecting information about the latest fashion trends and customers' requirements.
"We are happy to announce our new products. You know, the high quality clothes from our company are popular in the global market. Most of them are famous for fashionable designs and outstanding quality. The special offer is specially launched to benefit worldwide clients. We aim to help all gentlemen to keep warm and show their personalities in the spring," the CEO of the company states.
In addition, the promotion covers all the company's fashionable items that are featured with handsome looks and individuality. All of them are well designed by its experienced experts.
About Skmen.com
Skmen.com, a China-based company founded in 2009, is one of the leading suppliers of men's and women's high quality clothes. Also, it offers pretty cell phone accessories. The company has more than 5000 customers from every part of the world, helping the people develop self-esteem, confidence and love of learning.
For more details, readers can visit http://www.skmen.com/product-long-sleeves-shirts-009001003.aspx.