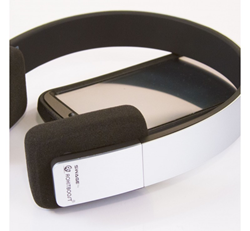 This refurbishment program offers amazing prices and helps reduce worldwide electronic waste.
New York, NY (PRWEB) March 08, 2014
Rokit Boost sells original, innovative mobile accessories, such Bluetooth headphones, headsets, speakers, iPad keyboards, and iPhone battery cases. The company is dedicated to providing excellent products at a great value to their consumers, and their new refurbished section takes this a step further. Customers can now find items such as RokitBoost's Bluetooth speaker with a built-in microphone or their iPad Bluetooth keyboard with protective case at nearly half their MSRP (Manufacturer's Standard Retailed Price) through their refurbishment program.
Other technology companies offer refurbished products at discounted rates, but they often provide no guarantee that these pre-used electronics will function properly. Rokit Boost tests and certifies all the products sold in their refurbished section. In addition, the company provides a 1-year warranty for all of these products, making them completely risk-free purchases. This warranty demonstrates Rokit Boost's confidence in the quality of their refurbished wares.
As well as providing excellent discounts (with the iPhone 4 and 4S battery case slashed from $29.99 to just $19.99), Rokit Boost's refurbished products are great for the environment. DoSomething.org, one of the United States' largest social justice non-profits, reports that "20 to 50 million metric tons of e-waste are disposed worldwide each year," with "80 to 85 percent" being "discarded in landfills or incinerators, which can release certain toxins into the air." Due to the fact that the technology industry advances so rapidly and many people don't know how to properly dispose of their discarded devices, electronic waste is a significant issue. Refurbishment provides an economical solution to this problem. Rokit Boost's customers can feel great about getting excellent prices on inventive products while helping to reduce worldwide waste.
About Rokit Boost
This burgeoning mobile accessories company fills the gaps in the current technological market, providing the products customers need to best enjoy their beloved phones, computers, and tablets. As their refurbishment program demonstrates, Rokit Boost is dedicated to providing the best value and customer service while keeping up with the latest issues in their industry (such as electronic waste).
For more information, please visit – http://RokitBoost.com.