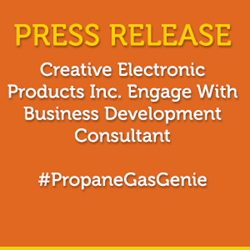 Having an expert like Sam on the team will help us get the word out about this great little product. -- Peter Frank
London, UK (PRWEB) January 22, 2014
The Propane GasGenie has been selling on Amazon since early last year. And the reaction has been good, with sales growing month by month. It claims to be the only propane gauge that actively warns the user of a propane fuelled BBQ that the gas level has reached a point where the user should consider replacing or refilling the tank. Crucially it first warns the user when there is still plenty of time to finish cooking what is on the grill. It acts in a similar way the warning light on a car's dashboard telling you that fuel is running low.
It was always CEP's intention to supply the retail market. But a reputation for high quality and increasing sales is needed in order to assure retailers that they are buying a product that will sell. This is now in place and CEP has employed Sam Georgeson, a specialist in online sales promotion to help generate awareness of the product's existence and of course to generate first time sales with new customers.
Peter Frank of CEP says, "Having an expert like Sam on the team will help us get the word out about this great little product."
Sam's job will be to make contact with relevant retailers such as propane tank re-fillers and hardware stores throughout the country. He will be using all that the internet has to offer in terms of methods to attract attention and get responses, including all the social media. The timing could not be better with the market for BBQ's and accessories about to open up as the weather improves towards the summer.
Sam has reviewed the market potential and believes that it is potentially very large. There are around 8 million new gas grills sold each year and approximately 43 million regular grill users in the US. He says, "My task will be to reach out to the retailers and demonstrate why the propane GasGenie is an ideal product for them to stock. Once they become aware of its advantages I think this will become a no-brainer for many retailers. I will be using LinkedIn as one of my main ways to make contact with the right people."
CEP, with Sam's advice has devised an introductory offer for new retailers. They will be able to buy just 10 units at the standard wholesale price normally offered for the minimum purchase quantity of 25. This will encourage new retailers to see that their initial risk is very small. Sam says, "How difficult can it be to sell a Propane GasGenie to someone who comes into their store complaining that they have just run out of gas in the middle of cooking?"
Any retailer interested in finding out more about the Propane GasGenie can visit the website or make sam(at)cepinc(dot)biz with Sam.
About Creative Electronic Products Inc
Creative Electronic Products Inc searches worldwide for products that are currently not available in the USA. After finding a possible contender it carries out due diligence by investigating the manufacturing Company. It then tests the product thoroughly before approaching the manufacturer to discuss an arrangement for the USA. For more information, visit http://www.cepinc.biz.