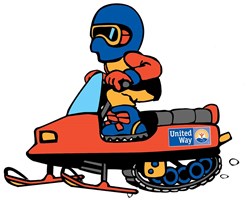 Kalkaska, MI (PRWEB) January 24, 2014
The 10th Annual Snowmobile Fun Run this year will benefit Crawford County United Way and will be held Saturday, February 8, 2014 beginning at noon at Dingman's Bar in Kalkaska. From there, riders will take a leisurely ride to three host locations along the route.
Funds raised will help boost the annual allocation fund distributed to local human services agencies and community projects serving citizens of Crawford County.
The main sponsor of the event is Northpointe Motors of Gaylord. "We've chosen to be the main sponsor of the10th Annual Snowmobile Fun Run and partner with the Crawford County United Way because we share their vision of active community participation and support to enhance the lives of those most vulnerable in the community," said Ryan Craig, General Manager of Northpointe Motors.
Additional sponsors include Grayling Auto Repair, Scheer Motors, Extreme Power Sports and host stops Dingman's Bar, The Hide-A-Way at Starvation Lake, Swamp II in Frederic, and Mainstream Steak & Ribs in Grayling.
Event organizer, Mary Becker, Lot Manager at Northpointe Motors, has raised over $11,000.00 since 2005 for the local animal shelter with the Fun Run and this year opted to hold the event for Crawford County United Way (CCUW) when the shelter board initiated its own event. She quickly found sponsors and began getting the word out about this year's fundraiser.
"Well, you know something that amazes me?" Becker asked. "Just how so many businesses from all over can come together to help this community. We can't wait to see all the riders, again, for another successful fundraiser."
Entry fee is $25.00 per person and the registration form can be downloaded by visiting http://www.crawfordunitedway.org. Pre-registration is strongly encouraged to help plan for meals.
Entry fee includes lunch provided by Dingman's Bar, dinner at 8 p.m. provided by Mainstream Steak & Ribs, and a commemorative t-shirt, while supplies last. There will be prize drawings for participants during dinner.
You do not have to ride a snowmobile to participate. Supporters are encouraged to use the surface streets to travel to each stop on the ride and meet up with the snowmobilers at Mainstream Steak & Ribs for dinner. If weather conditions create unfavorable trail conditions, the ride will be conducted by personal vehicle.
"We are so pleased that Mary offered to organize the fun run to benefit our organization," said Karen Hatley, President of CCUW. "Hundreds of our friends and neighbors benefit from the assistance of the local agencies that count on funding each year through the United Way. Helping them meet their goals is our goal. Please join us!"
Details about the event can also be found in the Events section of the CCUW Facebook page, http://www.facebook.com/CrawfordUW. Any questions about the ride should be directed to Becker at (586) 242-1179. Prizes for the riders are also needed. Call Cheryll Ruley, Executive Director of CCUW, at (989) 350-4462 to donate a prize.
If you cannot attend, but would like to support the cause, send check or money order to: CCUW, P.O. Box 171, Grayling MI 49738-0171. All donations are tax-deductible.