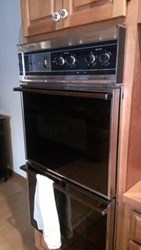 There is significant demand for oven cleaning in this area and many families require their barbecues cleaning too, this is a service which I believe will soon be very popular
Brisbane, Queensland (PRWEB) January 22, 2014
Mr. Coates founded Brisbane car detailing company, Redlands Mobile Car Wash in 2010.
The dedicated team of Brisbane based car detailers now includes four staff.
Redlands head office is located near Phil's home in Thornlands, Brisbane.
When the principal of the Brisbane car detailing firm was asked what makes the business different from other mobile car washing companies in Brisbane and why decide to diversify in to oven cleaning?
He answered "Our service is superb and we offer excellent value for money. Some other car detailers in Brisbane charge a lot more than we do and often clean to a much lower standard."
Phil added "I'm always thinking about how to improve and expand the business. Recently I have been chatting to my friend (who has an oven cleaning business in London, England) and I've noticed that there are a number of oven cleaning companies in my area. We are already experts at cleaning cars and have a lot of the required equipment already."
"My friend Matthew Hill of London based company; Hither Green Oven Clean has kindly offered to be our mentor. This is great news to have somebody so experienced helping us" said Phil.
"All of our technicians are now fully trained and we also have a highly experienced professional who has vast experience in oven, hob, barbecue and fridge freezer cleaning mentoring the team. Both businesses will cover the same areas in and around Redlands, Brisbane and Logan," advised Phil.
"There is significant demand for oven cleaning in this area and many families require their barbecues cleaning too, this is a service which I believe will soon be very popular," he added.
"Through hard work and striving to achieve the highest service levels Redlands mobile car wash is now firmly established as one of premier car detailers in Brisbane. We will be bringing the same levels of expertise and standards to our oven cleaning business," said Mr. Coates.
"We are already aware that many of our car detailing customers prefer us to visit them at their home or workplace or clean their cars at the weekend. We intend to offer this flexibility to our oven cleaning customers too," said Phil.
The oven cleaning part of the group offer the following services:
Racks and trays cleaned using a heated tank.
Oven liners removed where possible.
Doors removed, cleaned and polished (including the inner glass).
Fans removed and cleaned
Knobs de-greased and polished
Internal and external surfaces cleaned and polished
"Hobs whether they are gas, electric or solid top are included in the price," says Phil.
"Although the focus initially will be on domestic customers, we have the knowledge and expertise to grow the business in to commercial and industrial kitchen cleaning," advises Phil.
He adds "I believe both Redlands Oven Cleaning and Redlands Mobile Car Wash can become major players on state and national levels."
Redlands Mobile Car Wash recently appointed its first licensee, William Baker.
William Baker is now fully trained and has been operating under the Redlands name for the last two months.
Phil said "William has been an account manager for a number of companies, most noticeably he was one of the state account managers for Canterbury sports clothing before he decided he would like to try and build up his own business. He is also a fully qualified personal trainer and nutritionist so he does have significant experience in operating a small business. Matthew has excellent customer service skills and an eye for detail. He is always willing to put in extra effort to achieve the best possible results."
"Joining Redlands gives William the chance to work for himself and build up his own company, utilising my marketing skills and detailed knowledge to assist him wherever possible. He had looked at other similar franchising businesses, however I gave him the opportunity without an up front fee," ends Phil.