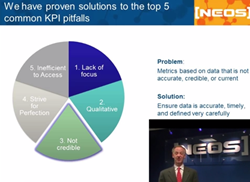 Taking the time to understand what you want to measure and what you will do with the data is critical.
Hartford, CT (PRWEB) January 21, 2014
NEOS LLC, a management consulting and technology services firm, has posted the first in a series of webcasts focused on Key Performance Indicators (KPI), executive dashboards and how they affect businesses.
In this first webcast, Brian Harris, Senior Strategy Consultant at NEOS, addresses the five most common mistakes companies make when embarking on a KPI effort. This webcast helps keep companies' expectations of KPIs from falling victim to common mistakes, specifically when the correct questions are not asked upfront. The webcast titled Top Five Performance Management Pitfalls is now available.
During the webcast, Brian discusses ways to avoid the mistakes he has witnessed other companies make. According to Harris, companies lack focus, do not choose credible or quantitative metrics, put too much focus on perfection or make access to data too complicated. The webcasts touch on best practices used to avoid these mistakes as well as how NEOS, the management consulting firm Brian represents, approaches KPIs and metrics.
Scott Witter, Vice President at NEOS, says, "Having been in the role of a CIO supporting the requests for KPIs, the pitfalls that Brian has outlined are very true. As he indicates, taking the time to understand what you want to measure and what you will do with the data is critical. NEOS is able to leverage its KPI Discovery Methodology to assist our clients in avoiding these issues and delivering a value-added solution."
The rest of NEOS' webcast series on KPIs will provide more information on which indicators to concentrate on and deeper dives into the benefits provided to executives.
About NEOS LLC
NEOS is a management consulting and technology services firm with unparalleled experience in holistic modernization, enterprise data and business operations consulting throughout the US, Europe, the Middle East and Asia. Clients range from large mid-cap companies to the Global 1000 segments including financial services, insurance and media. Services also include process, organizational and operational consulting, enterprise architecture strategies and design, reviews and planning, deployment and data analysis. NEOS is the parent company of Vgo Software that specializes in modernization analysis and conversions solutions.
For more information about NEOS, visit http://www.neosllc.com or follow us on LinkedIn, Facebook, Google+,YouTube, or Twitter.
About Vgo Software
Vgo provides the expertise, solutions, tools, and proven methodologies that insulate organizations from the complexities of change and accelerate application modernization. Supported technologies include IBM, Sybase, Oracle, and Microsoft. Modernization and conversion tools include Evo, (Oracle Forms® to Java), ART™, (Application Portfolio Assessment for Oracle Forms® and PowerBuilder Applications), and Evolutions™ (Application Conversion Methodology). Vgo Software is one of only two companies worldwide certified by Oracle Corporation to modernize Oracle Forms clients.
For more information about Vgo Software, visit http://www.vgosoftware.com.