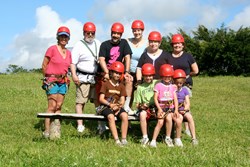 It's all about adventure that is thrilling and safe.
Ann Arbor, MI (PRWEB) January 21, 2014
Spring Break is approaching, but there is still time to get the perfect international adventure designed just for your family. JOURNEYS International assists parents and grandparents not only in choosing the right exotic destination but also in deciding whether it's best to join a small group with other families or to be the group themselves.
"Travelers don't always realize that they can have all the benefits of group travel -- a thoughtfully pre-planned itinerary, the best guide, their own vehicle -- without signing on to join people they've never met before," company president Robin Weber Pollak explains. "Sometimes, a group is comprised of members of three generations from one family, sometimes just the grandparents with grandchildren, and sometimes two or more families who are already friends."
JOURNEYS INTERNATIONAL, a family-owned company for 35 years, specializes in designing group trips on set dates and also custom programs that ensure children, teens, parents and grandparents all have a wonderful time. Trips include close-up encounters with wildlife, hands-on crafts activities, and sports and music with locals. "It's all about adventure that is thrilling and safe," Pollak notes, "And while parents with school-age children love us, it's often the teens and grandparents who end up being the most exuberant." Zip-lining and whitewater rafting are always hits.
Many families want a phenomenal experience that fits into a one-week vacation period. Latin America Specialist Lené Minder notes that Costa Rica, Belize and Panama are perennial favorites in this category, but Nicaragua and Baja, Mexico, have recently been getting rave reviews. Families with more time can consider Greece, China and Japan, also fantastic for that time of year.
About JOURNEYS International
JOURNEYS International of Ann Arbor, Michigan, is the longest standing family-owned global eco-tourism company in the US. JOURNEYS offers full-service exotic, guided cross-cultural explorations, nature safaris, treks and eco-tours in remote corners of Asia, Africa, the Americas and the Pacific. Founded by current directors Will and Joan Weber in 1978, JOURNEYS boasts an extraordinary record of client and staff satisfaction and several industry awards.