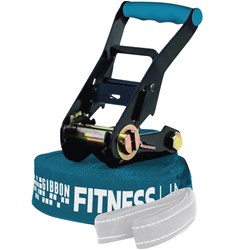 Louisville, CO (PRWEB) January 21, 2014
Whether you're stringing up a slackline in the backyard for the family, or are using this innovative new sport as a cross-trainer, there's no doubt that slacklining provides a highly effective workout that has become a favorite activity for everyone from gold medalist skiers and yoga lovers to Madonna. At the upcoming Outdoor Retailer Winter Market 2014, the world's leading slackline manufacturer, Gibbon Slacklines, is introducing a new kit that's designed for working out with a slackline. Available starting this January, Gibbon will be introducing the new Fitness Line at Booth #5007 from January 22-25, 2014.
"The sport of slacklining continues to grow in popularity among all ages and abilities," said Derick Cole, vice president of sales at Gibbon Slacklines. "More and more outdoors lovers are looking to slacklining as a fun and unique way to get fit and stay fit, and our highly anticipated new Fitness Line allows them to do just that."
Simply walking across the slackline is a great way to tone core and stabilizer muscles and training with slacklining is now made even easier with the Fitness Line. This new slackline is available as a traditional kit as well as part of the new Fitness Rack version of the popular Slackrack, and offers a full-body workout and resistance exercises for all skill levels, from beginner to advanced users. The Fitness Line incorporates slackline resistance training with an included exercise stretch band, and complete workout guide that details a variety of exercises. This slackline is designed to enhance traditional exercises like pushups and dips, and incorporates balance to strengthen important core and stabilizer muscles while improving mental focus and reaction time.
For those unfamiliar with the sport, slacklining is the act of balancing on a narrow, flexible piece of webbing that's anchored between two points. Gibbon Slacklines is the world's largest slackline manufacturer and has evolved the sport into an accessible, healthy activity for everyone, as well as an extreme sport thanks to the talented Gibbon athletes that never fail to impress with their ever-changing repertoire of tricks.
To learn more about Gibbon's new Fitness Line, visit Booth #5007 at the Outdoor Retailer Winter Market, and to find out more about the brand, products and sport of slacklining, go to http://www.gibbonslacklines.com/us.
###
About Gibbon Slacklines USA
Based in Louisville, Colorado, Gibbon Slacklines USA is the exclusive North American distributor for Gibbon Slacklines. Gibbon Slacklines are a fun and accessible way to increase balance, build muscle, and rehabilitate injuries.
Gibbon Slacklines are available at over 1,000 retailers across the U.S. The company holds slacklining competitions across North America and sponsors a group of athletes to travel the country introducing and teaching the sport of slacklining. For more information about Gibbon slacklines or the sport of slacklining, visit http://www.gibbonslacklines.com/us.