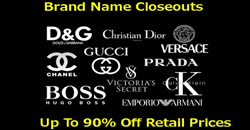 Springfield, MA (PRWEB) January 23, 2014
Luxury goods sales this holiday season were the highest level since the recession of 2008. Industry research forecast that consumers on average were expecting to increase their holiday spending by 6.9% over last year. The biggest increase in spending was expected to come from affluent consumers earning between $150,000 and $450,000 in discretionary income a year. Consumers within that income bracket were expected to increase spending by a massive 32% from a year ago.
Post holiday merchandise has traditionally been sold by retailers at deep discounts. Manufacturers often sold some merchandise to discount specialty retailers. In the past few years, additional online channels have developed where luxury retailers could unload their products without diluting their brand. These online channels include discount e-commerce stores and membership only flash sites.
CloseoutsOnline.com a Springfield, MA based company aggregates information on wholesale and retail liquidation of consumer products from hundreds of wholesale and retail liquidators. Products listed by CloseoutsOnline.com are liquidations that are discounted at up to 90% off original wholesale prices. Liquidated products come from department stores, luxury retailers, consumer electronic chains, manufacturers and government surplus. Current listings include closeout and liquidated products manufactured by Apple, LG, Samsung, Dell, Sony, Dolce & Gabbana, DKNY, Armani, Gucci and Prada. Please visit CloseoutsOnline.com to learn more.