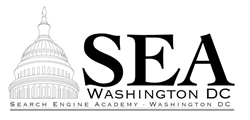 Anytime I ask business owners how they feel about their site's ranking in Google, I get an earful.
Washington DC (PRWEB) February 04, 2014
Search Engine Academy Washington DC (SEA DC) and the SoCo Women's Network will host a presentation on the latest Google search changes for interested women business owners. The SoCo Women's network hosts a morning breakfast meeting the second Tuesday of every month and features a guest speaker to discuss specific concerns and topics for women-owned businesses.
The presentation, titled "A Roundup Of Google Search Biggest Changes In 2014," will review what changed with Google's search formula and how these changes impacted multiple websites search engine rankings. The presentation will take place Tuesday, February 11, 8AM - 10AM, in southern Anne Arundel County.
According to Nancy E. Wigal, the owner and operator of SEA DC, "Cynthia Morgan, the head of SoCo, approached me about the possibility of giving an overview on the big changes to Google's search formula. I was thrilled to be asked, so I immediately came up with about three major points for the women to take away to understand how their websites may have been impacted."
Nancy also said "2011, 2012 and 2013 were watershed years for search engine optimization evolving changes. To this day, those ranking signal changes and formula updates are being felt every month. I'm going to summarize what each change is, and the possible impacts on websites that get caught in the cross hairs of these changes."
Nancy feels this presentation is always timely because since Google implemented these major ranking signal and search formula changes, many continue to be updated and rolled out monthly. Many business owners who do not actively monitor their website's performance may be unaware of how their website traffic has been affected. "It's not that these were one-offs; these changes continue to be refined and updated, then rolled out. Just because you may not have been impacted in the past doesn't mean you can be confident of dodging a bullet every month," according to Nancy.
Nancy promises a lively, engaging discussion about the latest Google search formula changes. "Anytime I ask business owners how they feel about their site's ranking in Google, I get an earful," she said. Nancy expects to hear many comments and stories from women business owners on how well or how poorly their sites are attracting web visitors and clicks. SoCo
Women's Network leader Cynthia Morgan feels that the presentation should emphasize which Google changes women business owners/web owners need to address, and if there are other search engines besides Google, that need to be considered for tweaking websites for better search results.
Any business owner with a website that is not receiving highly targeted web searchers should attend this presentation to get a better understanding of how search works. For more information and to register, visit the Southern Anne Arundel Chamber of Commerce page.
About the SoCo Women's Network: The SoCo Women's Network is designed to bring South County women business owners and women in business together for networking, friendships, and business building. According to network leader Cynthia Morgan, "I realized there were no women's business groups in South County. Most of the groups were in Annapolis or farther away. I attended a women's group in Annapolis and thought we could reproduce this in South County. The group quickly developed from solely networking into educational topics when several of the women indicated their need for understanding Facebook marketing and expressed frustration with finding good employees."
About Search Engine Academy Washington DC: Part of the Search Engine Academy, SEA DC offers two, three and five day SEO training and certification courses. Custom SEO training that ranges from one to three days is also available, and SEA DC provides enterprise level search engine optimization program development and implementation.