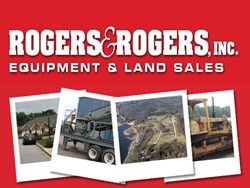 Chattanooga, TN (PRWEB) January 24, 2014
Rogers and Rogers Inc's new website is compatible on all devices and includes a new, easy-to-use navigation component. The site makes it easy to learn about their inventory of refurbished rock crushing equipment available for purchase. The company acquires many different types of equipment used in the rock crushing process and reconditions the equipment back in to working units. This provides rock crushing plants the opportunity to save money on the huge cash outlays for new units by purchasing quality rebuilt units for considerably less.
Since 1997, Rogers & Rogers, Inc. has served the aggregate industry with rock crushers, screens and conveyors. They can help with the development of a custom crushing plant or a bare crusher. The company ships refurbished rock crushing equipment worldwide. Whether it's a component for an existing plant or a completely new facility, Rogers & Rogers, Inc. manufactures and delivers equipment to meet the aggregate / quarry demand in any part of the world.
In addition, Rogers and Rogers Inc. has a separate real estate development division offering commercial lots and large tracts of land for sale in the Chattanooga, Ooltewah, Cleveland and the surrounding areas. There has been an increased demand for property in these areas since large corporations such as Volkswagen and Amazon have come to the area.
"The new site is to help demonstrate our commitment of providing the highest level of customer service and using the internet to better communicate our inventory availability and the details of each piece of equipment. Whether looking for commercial lots or large tracts of land, the new site provides robust information direct from the developer," adds Rogers (Manager).
Words from a Client:
Sam Sawant, President of Innotech Solutions, LLC states, "Innotech has done business with Rogers & Rogers Inc. for the last 10 years. We have sold them crushers and we have bought crushers from them. We have had crushers refurbished and sometimes enhanced with Innotech products at Rogers & Rogers Inc. We find both James and Jimmy to be very knowledgeable about crushers and their conduct is thoroughly professional. We have received excellent customer service from both of them and we recommend their services to any and all in the industry."
To learn more, visit http://www.rriservices.com and see what Rogers & Rogers, Inc. has to offer.
Press Release submitted by Click Ready Marketing, an Atlanta SEO Company.