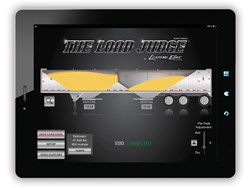 Labor needs and expense are cut down also, as the Load Judge™ turns a traditional two-person job into a simple, one-person task.
Groton, SD (PRWEB) January 24, 2014
The Load Judge™ from Leading Edge Industries uses patent-pending, high-tech sensors and a user-friendly smartphone or tablet app to load grain trailers with a high degree of accuracy. This new technology captures and transmits real-time data for consistent, repeatable results regardless of grain type or operating conditions, ensuring that grain haulers and farmers can achieve optimal loads that maximize the value of every trailer load.
The Load Judge compiles data received from six sensors placed within a grain trailer. Information gathered from these sensors – along with another sensor that determines moisture content – is inputted into a predetermined algorithm. The system senses proximity and calculates the shape and size of the impending load, and then instantly transmits the data to a free app for the driver's smartphone or tablet (iOS, Android, etc.).
Data is adjustable based on different trailer makes and models, and the app displays specific commodity configuration graphics for the exact trailer being loaded. The patent-pending trailer sensors self-calibrate every second to continuously deliver data in real time. A bushel estimator provides accurate bushel quantities throughout the loading process, while a pile peak adjustment feature accounts for differences in piling wet or dry commodities to allow the user to customize accordingly. Furthermore, desired load levels can be set and saved for every condition, making the process repeatable for every load.
By monitoring proper grain distribution on the trailer axles as loading occurs, farmers and grain haulers alike can be assured of highly accurate loads. This helps avoid both costly traffic tickets from being overloaded and lost transport efficiency when traveling with a load that is too light. Additionally, since the load is properly distributed across the axles with confidence from the beginning, drivers do not have to deal with time-consuming adjustments later.
Labor needs and expense are cut down also, as the Load Judge turns a traditional two-person job into a simple, one-person task. A single driver can handle the entire loading process by monitoring the app on a smartphone or tablet, then moving the trailer as needed. Because everything is done from the safety and comfort of the cab, there no need to stand in the cold or breathe in grain dust while loading.
The Load Judge is adaptable for any grain type and can perform in any conditions – day or night, wet or dry. Unlike camera systems, in which dirt, dust or darkness can block the view, the Load Judge senses proximity even through dust or dirt, ensuring an uninterrupted stream of data.
Implementing the Load Judge is easy for any user – the system components simply need to be installed and plugged in. Sensors operate off the existing trailer clearance lighting system, so there's no need to run a new electrical system through the trailer or any other upgrades. The installation base kit includes six sensors, a moisture sensor, Wi-Fi box, quick attach plug, cable and mounting accessories. The Load Judge is covered by a 2-year limited warranty.
For more information on how the Load Judge™ delivers every load on the money, contact Leading Edge Industries, 12702 406th Ave., Groton, SD 57445, call 605-881-8062 or visit http://www.loadjudge.com.