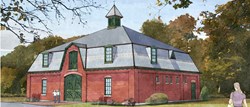 The Ford Challenge requires a 3 to one match, so Lauralton Hall will need to raise at least $150,000 from private donations.
Milford, CT (PRWEB) January 22, 2014
The Edward E. Ford Foundation recently announced its support of Lauralton Hall's new Center for the Visual and Performing Arts with a challenge grant of $50,000. The funding will help to complete the exterior restoration of the historic 1864 carriage barn on the school's campus.
The initial phase of restoration was funded through a grant from the State of Connecticut's Historic Restoration Fund and a gift from Dr. and Mrs. James Mooney of Orange, CT. Mrs. Mooney is an alumna of Lauralton Hall and Dr. Mooney serves on the school's Board of Trustees. The Connecticut Trust for Historic Preservation has also provided funding through their Barn Grant and the Historic Preservation Technical Assistance Grant programs.
The first phase of construction consisted of a restoration of the barn's slate roof, which is scheduled to be completed this month. The work also included installation of copper gutters, flashing and reframing of the second story dormers.
The Ford Challenge Grant and matching funds will complete Phase I construction and will include the masonry, repointing, replacement of windows and doors, gutters and downspouts.
The Ford Challenge requires a three to one match, so Lauralton Hall will need to raise at least $150,000 from private donations.
"There is a great deal of interest in restoring this structure on our campus," said Antoinette Iadarola, President of Lauralton Hall. "We look at this restoration project as an outgrowth of our school's environmental sustainability efforts. Our students are very focused on being green and this is just one way of reusing materials and resources. The adaptive reuse of historic structures not only enhances our campus, but also provides an additional contemporary learning space for our students and improves the quality of arts education at Lauralton. It's a win-win."
This year the City of Milford, CT celebrates its 375th anniversary and Lauralton Hall will mark the Sesquicentennial of its historic campus. The 1864 original Victorian Gothic style carriage barn is a visible reminder of the school's historic legacy in the community. The campus is listed on both the State and National Historic Registers.
The original owner of the estate, located at 200 High Street in Milford, was Charles Hobby Pond, a New York businessman. The Pond's are among Milford's oldest families. The original name of the home was "Island View", named for its view of Charles Island located off the coast of Milford in Long Island Sound.
The estate was later purchased by Henry Augustus Taylor, a New York financier and one of Milford's most generous philanthropists. Taylor named the property Lauralton Hall for his daughter, Laura. Henry Taylor was a very well respected patron of architecture who donated the funds to construct the Taylor Memorial Library building as well as the Mary Taylor Memorial Methodist Church in Milford.
With Taylor's death in 1899, Lauralton Hall was substantially vacant and neglected and its future was in doubt. In 1905, the Sisters of Mercy stepped in and purchased the property, establishing a K-12 school for young women in Fairfield and New Haven counties with the official name of Academy of Our Lady of Mercy, Lauralton Hall.
The restoration of the estate's historic carriage barn will create the school's new Center for the Visual and Performing Arts and become a focal point on campus.
Hundreds of supporters signed a petition in favor of this restoration. Lauralton Hall has the strong support of many city officials, state representatives and local organizations such as the Milford Preservation Trust.
Congresswoman Rosa L. DeLauro, a graduate of Lauralton Hall, states, "I know from personal experience how special the grounds are at Lauralton Hall because I attended as a young woman. Lauralton Hall serves many in the community and this structure (the barn) will only enhance the environment in which students can learn and grow".
"We are confident that we will meet the Ford Challenge," said Lisa Hottin, Executive Director of Development for the school. "We need to raise $3 for every $1 Ford is contributing. We have received some very generous gifts already and the proceeds from our popular Irish Night event in March will be directed to the Challenge match. Our deadline is July 1 and we'll have a real "barn raising" celebration after that!"
For more information about Lauralton Hall and the Edward E. Ford Foundation Challenge, go to http://lauraltonhall.org/barn or call (203) 877-2786 ext. 129.