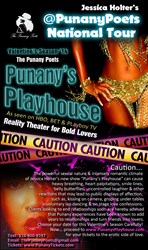 "Inspirational, insanely sexy, curiously comical, romance theater for lovers and friends."
(PRWEB) January 23, 2014
All aboard the Love train! Jessica Holter starts the year off with a screaming ovation for Punany's Playhouse. As seen on HBO, The Punany Poets will seduce you all over again with an inspirational, insanely sexy, curiously comical production of erotic proportions starting this Valentine's Season, 2014.
Often imitated, never duplicated, Jessica Holter started the first Black Sexual Revolution with the HBO Real Sex feature on her controversial theater company The Punany Poets in the year 2000. With the cable feature and her first published book Punany: The Hip Hop Psalms, Holter created a necessary open dialogue about sex at a time when HIV was just fast becoming a bi-product of prison and poverty and misogyny in rap music and popular culture was peaking. Today thousands of people around the world clamor to the open mic with erotic rhymes and sexual secrets to share. Still, Holter remains the creator of commercial erotic poetry. She is anointed of tongue, and gifted of pen; incomparable is her passion and dedication to a poetry project that has evolved into a movement for healthy sexuality and communicable love. With the support of loyal fans from all over the world, Holter has built The Punany Poets into a respected brand with a growing catalog of musical recordings, books, visual art, DVD's and branded merchandise.
If you liked them on television, you are going to love The Punany Poets live, as they pace the erotic escapade of poetry, comedy, dance and theatrics to a soul healing musical score produced by some of the San Francisco/Bay Area's most acclaimed musical talents, including Dwayne Wiggins of Tony Toni Tone', Denny Foster of En Vogue production team Thomas/McElroy, and Lev Burlak of The Grill Studios to create a super-sensory experience that will stimulate, titillate, educate and prime your heart to fall in love again, without fear.
Need to get familiar with #ThePunanyPoets ? Download the FREE Punany APP for your Android or Apple Device HERE
Jessica Holter is also known as Ghetto Girl blue. Check out Jessica Holter
Tour Dates:
January 25th, 2014 - Sacramento, CA
January 26th, 2014 - San Francisco, CA
January 27th, 2014 - San Diego, CA
January 28th, 2014 - Phoenix, AZ
February 1, 2014 - Dallas, TX -
February 2, 2014 - Memphis, TN
February 3, 2014 - Nashville, TN
February 4, 2014 - Knoxville, TN
February 6, 2014 - Louisville, KY
February 7, 2014 - Ft. Wayne, IN
February 8, 2014 - Detroit, MI
February 9, 2014 - Pittsburgh, PA
February 13, 2014 - Washington, DC
February 14, 2014 - New York, NY
February 15, 2014 - New York, NY
February 16, 2014 - Los Angeles, CA
February 21, 2014 - Las Vegas, NV
February 22, 2014 - Oakland, CA
March 15, 2014 - Chicago, IL
March 22, 2014 - Hollywood, FL
April 18, 2014 - San Antonio, TX
April 19, 2014 - Dallas, TX
April 20, 2014 - Houston, TX
May 28-31st - Atlanta, GA
June 19, 2014 - Philadelphia
June 20, 2014 - Baltimore, MD
June 21, 2014 - Washington, DC
July 18, 2014 - Los Angeles, CA
July 19, 2014 - San Diego, CA
August 6-11, 2014 - Cancun (Mexico Vacation)
For Interviews & Press Passes contact jessicaholter(at)gmail(dot)com
For Business Opportunities (Vending, Booking, Wholesale Books, DVD's, CD's T-Shirts), email thepunanypoets(at)gmail(dot)com
For Tickets, Venue Details and Showtimes visit http://www.punanytickets.com.