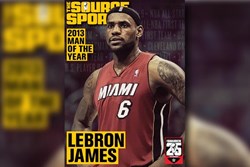 New York, NY (PRWEB) January 22, 2014
The Source Magazine has named Lebron James of the Miami Heat as their Source Sports "Man of the Year" and Florida State University's Jameis Winston as Source Sports "Rookie of the Year." Long known as the authority on all things hip-hop, The Source understands its readership has varied interests beyond music and the intersection between sports and entertainment has never been richer.
"Sports and athletic performance play an important part of hip-hop and youth culture, which Source Sports aims to prioritize more and more. Congrats to Lebron James and Jameis Winston," says owner/publisher L. Londell McMillan, Esq.
Lebron had a great year last year, hoisting the Larry O'Brien NBA Championship trophy triumphantly above his head for the second consecutive year, outlasting the steady and resilient San Antonio Spurs in a decisive Game 7 in the NBA Finals. Lebron was also named the NBA's Most Valuable Player for the 4th time, and the second consecutive year. His willingness to sacrifice the betterment of his personal statistics for the greater good of his team has made him not only a model basketball player, but a prominent role model in the community. Lebron James has become the perennial champion of both his sport and hip-hop culture, and for that we are proud to name him The Source Sports Man of the Year for 2013.
Jameis Winston is a new face for most, but he hasn't even begun to leave the mark he most likely will leave not only on football fields, but in the hearts and minds of sports fans that can appreciate a display of perseverance and determination. A year after losing E.J. Manuel to the NFL, The Florida State Seminoles appeared to be entering a momentary period of uncertainty, but Jameis Winston—as a redshirt freshman—took the reigns of the team and led them all the way to a BCS Championship. The young quarterback met adversity on the way—he was involved in an unfortunate police investigation in early November; his name was cleared weeks later—and was able to stay on track not only physically and athletically, but mentally, and watching him raise the BCS Championship trophy high above his head was one of the most heart-warming moments of the entire football season. Jameis Winston is our Source Sports 2013 Rookie of the Year.
Monday, on Martin Luther King, Jr. Day, The Source also gave their fist annual MLK Acknowledgement Award to rappers The Game and Nas for their compassion and charitable contributions to others in need.
For more information on the awards, please visit:
Source Sports Rookie Of The Year