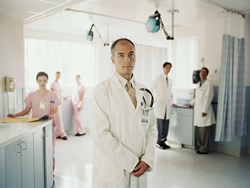 While movement from private practice to an integrated model is not exclusive to medical oncology, medical oncologists, and their relationship with hospitals, present unique and interesting challenges. -Chad Stutelberg
Minneapolis, MN (PRWEB) January 27, 2014
During the past five years there has been a significant shift in the relationship between medical oncology practices and hospitals. The traditional, physician-owned practice has given way to alignment with health systems, largely through professional service agreements ("PSAs") and employment.
To better understand industry current practices in this area, INTEGRATED Healthcare
Strategies initiated a national survey of leading healthcare organizations in the spring of 2013. A total of 39 healthcare organizations are included in the report, representing nearly 500 employed and independently contracted medical oncologists.
"While movement from private practice to an integrated model is not exclusive to medical oncology, medical oncologists, and their relationship with hospitals, present unique and interesting challenges," Chad Stutelberg, Senior Vice President and Physician Services Practice Leader, said. "INTEGRATED's Medical Oncology Compensation Survey reports key data on these challenges."
The following results of INTEGRATED's 2013 Medical Oncology Compensation Survey provide insight on the typical industry practices for medical oncology compensation design today, with specific attention paid to infusion services and supervision/administrative compensation, as well as commentary on compensation trends for this specialty.
The vast majority of our survey respondents represent medical oncologists that are employed or independently contracted (e.g., through Professional Services Agreements, Management Services Agreements, and Co-Management Agreements). Although most of our participants offer similar medical oncology services, compensation for these services can vary typically based on the relationship between physicians and practices.
Key survey findings include:

It is more common to find guaranteed base salaries under employment models than PSAs;
Over 75% of the participants providing a salary or stipend for administrative services employ the medical oncologists;
Nearly 70% of medical oncologists receiving total WRVU credit for infusion services are employed;
Compensation for infusion services supervision is predominantly determined by actual WRVU credit based on billed infusion services supervision codes or a compensation per WRVU rate with this supervision "built-in";
It is more likely for independently contracted medical oncologists to utilize actual WRVU credit based on billed infusion supervision codes;
Advanced Practice Clinicians (APCs) are predominantly compensated by either a base salary or hourly rate;
Of the APCs that are compensated with a base salary, 75% are employed by a hospital or health system.
To view the report visit our website.
About INTEGRATED Healthcare Strategies:
For more than 30 years, INTEGRATED Healthcare Strategies has provided consultative services and people-based solutions to clients across the healthcare spectrum, including community and children's hospitals, academic medical centers, health networks, clinics, and assisted-care providers. Our expert consultants and nationally recognized thought-leaders help organizations achieve their business goals by ensuring top talent is attracted, retained, and engaged, while measuring and maximizing human and organizational performance. With tailored solutions that extend well beyond single services, INTEGRATED offers the knowledge, guidance, insights, and alignment that organizations need to not only survive the rapidly changing healthcare environment, but to succeed in it. Exclusive to Healthcare, Dedicated to PeopleSM.