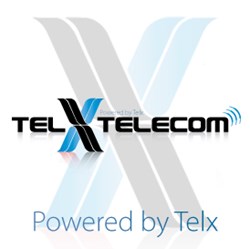 Miami, FL (PRWEB) January 22, 2014
Most people are familiar with the standard phone line for a business or a residential phone provider - this is a basic signal that usually transmits over copper cabling directly to the house or business where the line or lines are located. This method uses analog signals that are converted (sampled) to digital when they enter the phone company's fiber optic lines, which are designed to carry a huge amount of audio. When a business needs a phone system of many phones linked together, the phone company can run a fiber optic line directly to the business location; this is called a T1 line.
Telx Telecom, one of several VOIP service providers in South Florida, announced today a new suite of T1 systems offered to small- to large-sized businesses. A single T1 line can carry 24 digital voice channels or data at 1.544 megabits per second. That's more than 60 times the speed of a residential phone line.
Since T1 uses digital data transmission, it can be used for internet as well, and is fast enough to support several hundred users on browsers simultaneously. The T1 protocol was invented by Bell Labs and introduced in the 1960s. Since the technology first appeared, it has become far less expensive and easier to acquire in areas besides inner cities.
Telx also provides Metro-E systems for broadband internet, 24/7 network monitoring, lower marketing costs, and are scalable to 1000 Mbps speeds, if a T1 system is inadequate. Faster internet like this is often needed in businesses that require a lot of communication or data transferring over the internet.
About Telx Telecom- Telx Telecom specializes in VOIP phone service, and provides a range of phone, ATA, router/switchboards, and POE systems made by Cisco. These types of connections also enable IP cameras, which can be used for security or general office monitoring. Security systems like this can be centralized or decentralized, but are almost always centralized for easier monitoring.
As a phone service provider, Telx also offers internet phone service networks and additional hosted PBX services/solutions. Telx can set up a PRI with network monitoring in very little time. Along with the phone services, Telx Telecom can also help clients get a long-distance or toll free calling system for use at any business (always scalable from small to large).
More information can be found at their website telxtelecom.com. Telx Telecom is located at 17401 NW 2nd Ave #4, Miami Gardens, FL 33169 and can be reached by toll free phone at (866) 969-8359.