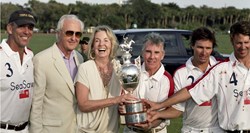 Vero Beach, FL (PRWEB) January 22, 2014
The 2014 Windsor Charity Polo Cup takes place on Saturday, February 15 at Windsor, a private sporting club community located on a barrier island in Vero Beach, Florida. The sold-out Windsor Charity Polo Cup in 2012 raised $154,940 for three worthwhile causes and generated extensive local and national media coverage. Proceeds from this season's event will directly benefit The Rett Syndrome Research Trust, a nonprofit organization that seeks a cure for what is the most physically disabling of the autism spectrum disorders; and the Indian River County School District's "Summer Literacy on the Lagoon" program, which was designed exclusively for Windsor to help with student literacy goals.
Gates open at 10 a.m. and the polo match begins at 2 p.m. Morning festivities will include the People's Choice Concours presented by The Space Coast Region of Porsche Club of America, which will feature 50 of its members' cars including rare and exotic examples.
Following that will be a demonstration by the Special Equestrians of the Treasure Coast, a Vero Beach nonprofit organization that provides therapeutic horsemanship instruction to individuals with physical, emotional and intellectual disabilities.
Match attendees have the option of enjoying either a tented field-side champagne luncheon or a picnic in the festive tailgating area, where they are invited to take part in a whimsical tailgating competition with prizes.
Steve Weagle, chief meteorologist for Palm Beach's WPTV (NBC channel 5) was a celebrity tailgate judge at Windsor's first Charity Polo Cup but this year he will be emcee. "I'm honored to be tapped for such a pivotal role in this premier sporting event," he says.
Spectators can cheer on their favorite players including Guillermo (Memo) Gracida, Mike Azzaro, John Walsh, Luis Escobar, Malcolm Borwick and Salvatore Ferragamo. Mexican-born Gracida holds the distinction of the most consecutive (21) years as an American 10-goaler. Azzaro, six-time winner of the US Open, is the only American player to have won the British Open. Walsh is an avid polo player and host of the TV show America's Most Wanted. Escobar is a seven-goal polo player and owns the Santa Clara Polo Club in Palm Beach. Borwick is one of England's leading professional polo players. Ferragamo, who played in the inaugural Windsor Charity Polo Cup, is serving as the event's 2014 Honorary Co-Chair along with Windsor co-founder and creative director the Hon. Hilary M. Weston.
Event organizers for the 2014 Windsor Charity Polo Cup recently unveiled the official commemorative poster created by Melbourne, Florida artist Derek Gores. The 30" x 40" original collage features a polo player striking the ball on the Windsor polo field with Windsor's distinctive architecture visible in the background. The collage is constructed out of photos, maps and various print materials from the luxury sporting club community's archives.
Gores has gained national attention for his "torn paper collage" works on canvas, recycling magazines, labels, data, and assorted found analog and digital materials to create unique works. His fine art canvases are exhibited in galleries worldwide including Thinkspace in Los Angeles, Butler Goode in Sydney, Australia and recently at Scope Art Fair during Art Basel Miami.
"In the art, I've tried to capture the athleticism and elegance of the sport in this gorgeous setting," Gores says. "Take a closer look and you'll see familiar favorite elements from throughout Windsor."
In addition to official artwork, the Windsor Polo Cup will also be introducing exclusive commemorative merchandise including an official cup, tote bag, silk scarf, binoculars and a variety of hats.
Raffle tickets are available for two different packages: One winner will receive a trip to New York City, which will include roundtrip airline tickets, three nights at the renowned St. Regis Hotel, and a visit to the Oscar Heyman workshop on Madison Avenue to personally design an exquisite piece of jewelry that will be fabricated by the shop's artisans. Total package value is $25,000. Suggested donation is $350 and the raffle is limited to 100 tickets.
The second package will have seven winners with a variety of prizes including a paddleboard, a stay at Vero Beach Hotel & Spa, and a bicycle with accessories. The top prizewinner will receive an original collage by artist Derek Gores that will be completed at the event, valued at $3,100. Suggested donation is $25 for one ticket or $100 for five.
TICKETS
Tickets can only be purchased at Windsor or at the 2014 Windsor Polo Cup website.
SPONSORS
The 2014 Windsor Polo Cup sponsors are:
GRAND PATRON SPONSOR
Brown Advisory
TEAM SPONSORS
Francis & Susan Knott, Family & Friends
Lew & Judy Eisenberg, Manley & Mary Johnson, Dennis & Barclay Kass, Tim & Mary Mullan, Guy & Dede Snowden
COCKTAIL PARTY SPONSOR
Windsor
FIELD SPONSOR
Peter & Kjestine Bijur
BEST PLAYING PONY SPONSOR
Helmut & Danna Swarovski
LUXURY CAR SPONSOR
Porsche, Mercedes-Benz, Audi of Melbourne
The 2014 Event Honorary Co-Chairs are the Hon. Hilary M. Weston and Salvatore Ferragamo. The Co-Chairs are Windsor Members Kjestine Bijur and Susan Knott. Match director is Max Secunda.
ABOUT WINDSOR
Windsor is a private residential community spanning 416 acres of lush barrier island between the Indian River and the Atlantic Ocean in Vero Beach, Florida. Established in 1989 by Hilary and W. Galen Weston of Toronto, Canada, Windsor was designed by renowned town planners Andrés Duany and Elizabeth Plater-Zyberk following the New Urbanism principles of urban design, one that offers public and community spaces framed by timeless architecture and landscape design that celebrates this tropical and unspoiled setting. For more information, visit http://www.windsorflorida.com.