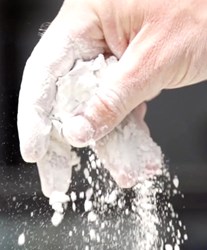 Like any construct or product that uses portland cement, a congenital performance vulnerability in the cement and water hydration reaction must be accounted for in the mix design.
Malad City, ID (PRWEB) January 23, 2014
This new white paper details why Nippon Electric Glass America, a leading manufacturer and materials supplier to the Glass Fiber Reinforced Concrete (GFRC) Industry, selected an ultrafine pumice pozzolan (Hess UltraPozz) as the ideal supplementary cementitious material to improve its GFRC products. The paper also explains the process by which two naturally incompatible materials—glass fibers and portland cement—are made to work together to create this enduring, versatile, and widely used building material.
Glass Fiber Reinforced Concrete (GFRC) panels and products are well established in the materials vocabulary of building design professionals. Made by spraying a glass-fiber reinforced, cement-based composite onto a lightweight frame, the typical GFRC panel material is only three-quarters-of-an-inch thick, yet equal to the talk of providing an enduring exterior finish to a building. The sculpted shape and application is limited only by imagination. The glass fibers, as the name implies, provide the key strength characteristics—impact, tensile, and flexural—of the panel.
THE PROBLEM: Yet, those all-important glass fibers get a harsh reception from the alkali in the portland cement, and without some kind of inherent defense as well as the presence of an effective alkali mitigator, the glass fibers will lose some strength and ductility with time.
THE SOLUTION: Working in concert, an alkali-resistant glass fiber (Nippon Electric Glass AR fiber) and an alkali-killing supplementary cementitious material meeting ASTM C-618 type N specifications (Hess UltraPozz) make the versatile beauty and lightweight strength of the GFRC product enduring and economical.
Download the white paper at http://hesspozz.com/GFRC-UltraPozz.pdf.