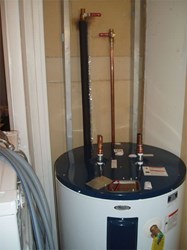 Switching to an efficient hot water heater could pay for itself in one year!
DC, Virginia (PRWEB) January 22, 2014
Rising utility costs have caused serious budget problems for many Americans, and there does not seem to be any relief in sight. Though electricity costs have trended upwards for quite some time, many homeowners were surprised to see an increase in their water expenses as well. 4FastPlumber, one of Virginia's premier plumbing companies, is helping homeowners deal with the high cost of water and electricity with efficient water heaters.
For more than 20 years, 4FastPlumber has been providing plumbing and gas line services to northern Virginia and Washington, DC. As a family run company, 4FastPlumber has always tried to put the customer first and offer a good customer experience. Priding themselves on excellent customer service, 4FastPlumber has become known for its quick response times and 24 hour emergency plumbing services.
Now 4FastPlumber has made the transition to efficient water heaters, and they have stopped installing older or less efficient models. Though the initial cost may be higher for these more efficient water heaters, homeowners will be able to recoup the cost in only a couple of years because of the energy savings. The efficient water heaters are better able to hold their temperature, which means heating less water and spending less energy maintaining the water temperature. Homeowners will even see more hot water, more often than ever before.
Homeowners who want to find out about the newest efficient water heaters can go to http://4fastplumber.com. There they will find a discussion about the need for the newest efficient water heater designs, as well as all of the other services offered by 4FastPlumber.
As a leader in plumbing service in Virginia, 4FastPlumber has a track record of satisfied customers and excellent work. Homeowners looking to install a new water heater will find that 4FastPlumber is one of the most affordable services in their area. As 2014 gets under way, it is clear that 4FastPlumber is on the path to success for the new year.
For more information, visit http://4fastplumber.com or call (800) 461-7770.