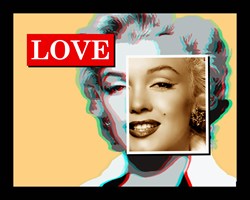 I am excited about my new POP 3D series, it's unique, innovative and fresh.
Montvale, NJ (PRWEB) January 27, 2014
J. Scott Nicol debuts a new series of Oil Paintings entitled "POP 3D". By using the 3D glasses to view the artwork, the viewer gets to experience original paintings like never before. These paintings incorporate pop culture images in a unique way that combine the realism of a photograph and the excitement of Pop Art. The paintings when first viewed appear to be stylized portraits. The background suggests a Pop Art silk screened image with bold text in the foreground. The text does not suggest a title, but a word to elicit a personal interpretive relationship with the viewer.
The unique experience happens when you put on the 3D glasses. The elements of the painting separate. What was the silk screened part of the image becomes black and white receding into the background. As the viewer moves from left to right, the background image also moves. The viewer is having an interactive experience with an original oil painting that is new, current, and fresh.
"I turned to Kickstarter as a means to fund the launch of my exciting new series of Oil Paintings that I call 'POP 3D'". Nicol continued: "For many years I wanted to exhibit at Art Expo NYC. Art Expo has become the ultimate venue for independent artists to be discovered, not only by gallery owners, art publishers, and museum curators, but by collectors and enthusiasts in search of exciting new works."
The "POP 3D" Kickstarter campaign is from January 16 to February 25, 2014. Those who fund the project receive valuable rewards such as limited edition prints on canvas in a variety of sizes and original oil paintings. Art Expo NYC, at Pier 94, is April 4 to April 6, 2014. If the campaign is fully funded, close to 30,000 art enthusiasts will be able to view and interact with this new series in a way that has never been seen before. To view the "POP 3D" project, please visit Kickstarter.
J. Scott Nicol is a New Jersey based fine artist who exhibits in galleries around the country and is purchased by collectors all over the world. For more information and to view the series, please visit his website.