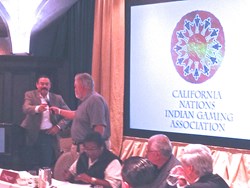 "The movement to reclaim tribal lands is critical to the long-term success and sustainability of California tribes." - Steve Stallings, CNIGA Vice Chair
ROSCOE, MT (PRWEB) January 22, 2014
ILCC, a Native American owned and managed Native Community Development Financial Institution (NCDFI) based in Montana announced that it recently joined CNIGA, one of the largest and most influential tribal associations in California and the nation, as an Associate Member.
California is home to some 110 federally recognized Native American nations, each with differing economic, cultural, and social needs and conditions. Some 12 California tribes remain landless with another 28 tribes possessing less than 100 acres of tribal lands and 33 tribes possessing 101 to 1,000 acres. The total tribal trust lands benefiting California tribes is less than 450,000 acres. This diminutive land base is often inadequate to support sustainable land use, especially for a state that boasts nearly three-quarters of a million American Indians – the highest density in the United States and representing 14% of the total national Native population.
Many tribes need additional land and economic development to fund infrastructure improvements and offset shrinking federal government funding, especially given that only a handful of California tribes enjoy tribal government gaming revenues large enough to support tribal operations and self-sufficiency. Earlier this year, ILCC negotiated an innovative financial agreement to help the Kashia Band of Pomo Indians of Stewarts Point Rancheria purchase 510 acres of wooded land adjacent to its remote rancheria in Northern California.
Gerald Sherman ((Oglala Lakota), ILCC's President and CEO sees such structural challenges as an opportunity. "On the one hand, many tribes in the state have little land or resources needed to access traditional financing to support tribal goals and programs. On the other hand, California is also home to some of the most successful and diversified tribes in the nation who we hope will become social investors in ILCC's loan funds," said Sherman. "And we see CNIGA as a vital partner in reaching both sets of tribes and creating a model for the rest of the nation for how tribes can work together to strengthen tribal sovereignty."
Steve Stallings, a tribal council member of the Rincon Band of Luiseno Indians who has served as Director of the Native American Banking Services group for Wells Fargo as well as CNIGA's Vice Chair agrees: "The movement to reclaim tribal lands is critical to the long-term success and sustainability of California tribes," said Stallings. "That is why I was delighted to nominate ILCC to join CNIGA as a member and partner."
Sherman will be moderating a panel discussion entitled "Land: Sovereignty and Economic Development" at CNIGA's annual Western Indian Gaming Conference (WIGC) at the Morongo Casino on February 13th, 2014.
###
ILCC is a Native owned and managed CDFI that is certified by the CDFI Fund of the U.S. Treasury Department and provides flexible loan options to Indian nations for tribal land acquisition. ILCC has facilitated over $7 million in loans to tribes in 6 states that helped to return some 30,000 acres of land to tribal control. Gerald Sherman has served on numerous Native community boards over the years and currently serves on the board of Indian Dispute Resolution Services in Sacramento, California and the International Advisory Council for the Native Nations Institute (NNI) at the University of Arizona in Tucson, Arizona. He is currently Vice President of the board for the newly formed Native CDFI Network and President of the board of the Indian Nonprofit Alliance in Montana. More information on ILCC and Gerald Sherman can be found at http://www.ILCC.net. The California Nations Indian Gaming Association (CNIGA) is a non-profit association comprised of federally recognized tribal governments dedicated to the protection of tribal sovereignty and the right of tribes to have gaming on Indian lands. For more information on CNIGA or the WIGC Conference please visit http://www.CNIGA.com.
ILCC - The Leader in Tribal Financing for Indian Land Recovery and Economic Development.