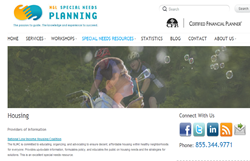 The special needs planning company is committed to helping families plan for housing needs of family members with disabilities through services such as their Comprehensive Special Needs Financial Life Plan, their newly launched Independent Living Program
Washington, DC (PRWEB) January 22, 2014
M&L Special Needs Planning, LLC is a company that specializes in offering services that are at the heart of planning for families and individuals with special needs. These services include helping families complete a personalized Comprehensive Special Needs Financial Life Plan, insurance needs analysis services, counseling as to different aspects of special needs planning, help with transitioning planning, vocational rehabilitation, legal and estate counseling and recommendations, etc.
In the last year, however, the company has slightly shifted their focus, and has begun to work more extensively in a field that has recently captured their attention – housing for individuals with special needs. According to M&L founder Maedi Tanham Carney, CFP®, CWIC, "we are so inspired by helping individuals with disabilities find independent living programs and housing options that allow them to lead independent, happy, and fulfilled lives – it this inspiration that drives and motivates us."
As Maedi and her team began to focus their attention on housing for individuals with special needs, they discovered that this type of housing is currently in crisis mode - there simply aren't enough housing options and programs to go around. In addition to this, the lack of reliable, relevant and current information on these programs often hinders parents as they try to search for the programs that do exist. The M&L housing team offered a solution to this problem when they launched their Independent Living Program and Housing Project, an online database with over 800 entries of independent living and housing programs from across the United States. This online database of housing information is a one-stop shop for anyone looking for special needs housing – in addition to the housing and independent living programs, the database also includes journal and news articles, studies, research, and financial and important governmental policy information that is of interest and relevance to any family or individual looking to secure special needs housing.
Once this program was launched, Maedi – who was searching for housing opportunities for her daughter, Ellie – decided that although it helps connect families looking for housing with essential and current housing information, it simply wasn't enough. There weren't and aren't enough housing options in Washington, D.C., Maryland or Virginia to meet the need that exists. There is, however, enough interest from parents to seriously consider special needs housing development. As a result, Maedi and M&L Special Needs Planning, LLC are proud to announce two housing development projects – the CIF New Futures Initiative, and an Independent Housing Coalition.
CIF and the New Futures Initiative:
The CIF's New Futures Initiative began in October of 2013, when M&L co-hosted a housing development workshop with the Center for Independent Futures (CIF). This workshop promoted CIF's New Futures Initiative, and was aimed at helping interested individuals create housing models that replicate the CIF's Community Living Option residences in Evanston, Illinois. The workshop was incredibly successful, with more than 65 families attending, and the future of this type of development looks bright. In February of this year, Maedi will travel to Evanston, Ill. with five interested families to continue the New Futures Initiative training – and M&L will play an important role in the development of this type of housing model in the Maryland area. As this housing model develops, Maedi and M&L will act as a coordinator, and will be responsible for sourcing the services and service providers, housing, etc. M&L hopes to replicate this training for many more interested families, including those in the Virginia and Washington D.C. area.
Independent Housing Coalition:
Maedi and M&L will also play an integral role in the development of other models of special needs housing in the DC, MD and VA areas, with the independent housing coalition that she is spearheading. Maedi is currently meeting with a number of families in late January to discuss the ways in which housing for their families members with special needs can be developed, acquired, etc. in the next 1-2 years. Also, on February 26th, 2014 Maedi will be having a Housing Update workshop at TLC to share what she learned at the CIF training and how to get involved with finding housing for your family member with disabilities. Due to Maedi's CFP® financial and special needs background, M&L will be able to tie all the important financial aspects to planning with one's specific housing needs in mind.
M&L Special Needs Planning, LLC is a one of a kind company, which continues to grow with every new project and initiative. The special needs planning company is committed to helping families plan for housing needs of family members with disabilities through services such as their Comprehensive Special Needs Financial Life Plan, their newly launched Independent Living Program and Housing Project, and their housing development projects. Those who wish to learn more about the special needs housing developments which Maedi and the M&L team are involved in are encouraged to visit the M&L Special Needs Planning, LLC website and are encouraged to contact Maedi Tarnham Carney for more information.