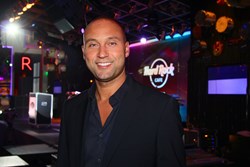 "I've traveled the world and experienced some of the best entertainment options," said Derek Jeter. "But, Hard Rock Cafe Tampa stands apart due to their incomparable guest service and dynamic venue."
Tampa, Florida (PRWEB) January 21, 2014
The invitation-only party that Derek Jeter hosted on January 17th included his closest celebrity friends who came to Tampa to support his 11th Annual Celebrity Golf Classic.
New York's DJ Reg West spun late night on Friday night for the New York Yankees Captain and hundreds of his closest celebrity friends and guests at Tampa's exclusive Hard Rock Cafe, while guests enjoyed Ciroc Vodka.
"I've traveled the world and experienced some of the best entertainment options," said Derek Jeter. "But, Hard Rock Cafe Tampa stands apart due to their incomparable guest service and dynamic venue."
Dancing with the Stars' Karina Smirnoff recently hosted the Pop the Cork New Year's Eve party at this location, a hot spot for celebrity sightings in Tampa.
About Hard Rock Cafe Tampa
Located inside the Seminole Hard Rock Hotel & Casino, Tampa's only Hard Rock Cafe occupies 17,500 sq. ft and offers world-class entertainment, legendary cuisine and it's the first Cafe to offer slots and blackjack. Enjoy an expanded menu with offerings from the world famous Martorano's Italian Restaurant, a luxuriously laid-back vibe and nightlife like no other. This is the place to experience everything that rocks — LIVE! For more information, visit http://www.seminolehardrocktampa.com/dining/hardrockcafe or call 813-627-7625 (ROCK).