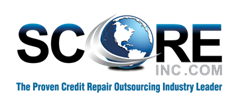 Learn how Credit Repair Professionals can easily build relationships directly with Realtors© Home Builders and Manufactured Home Dealers ahead of the implementation of the Qualified Mortgage Rule.
Mobile, Alabama (PRWEB) January 22, 2014
According to Joel S. Pate, president and CEO of Scoreinc.com, "Realtors© are the actual source of most referrals to credit repair companies, not loan originators. Thus, as the Qualified Mortgage Rule changes many facets of the mortgage industry effective date of January 10, 2014, CRO's must learn to build relationships directly with Realtors© and builders to overcome the likely prohibition that some lenders will impose on their LO's of allowing their loan originators to refer the Realtors© and homebuilders credit turn down customers, that are Not Yet Ready to Purchase™ a home, to a credit repair professional as recently demonstrated by a August 2013 notice from the nations largest mortgage servicer."
At a recent event held by the University of Alabama's Center for Real Estate continuing education event held in Tuscaloosa Alabama by the Tuscaloosa Association of Realtors©: "While it doesn't appear to be the intent of the Consumer Financial Protection Bureaus QM to limit consumers access to the services of professional credit repair operators inadvertently it seems like they have as lenders correctly or incorrectly process the QM through their compliance departments."
Thus in order to overcome the potential loss of the primary referral source of most credit repair companies, the CRO must immediately turn its business development activities up the food chain to the actual source of the business, the Realtor© and builder. But how?
"While the process of working with the Realtor© and builder is a bit different than working directly with lenders, remember that it's the same customer and the same transaction with the same goal as before: Help the consumer obtain an accurate credit report as defined by the Fair Credit Reporting ACT," according to Joshua Carmona, company founder and VP. "One thing is for sure, Joel's background in building a large referral source network makes him the perfect to develop and implement this training. Joel built a network of over 5000 loan originators, Realtors© and builders that referred over 67,000 closed transactions to the American Family Funds Down Payment Assistance Program between 2001 and 2008. Building a nationwide network is much more difficult that building one in your own hometown. It's just a process that has to be followed on a day by day basis."
To join this business building training, professional credit repair companies should join a training webinar that will be released on Thursday January 23, 2014 REGISTER HERE!
About Scoreinc.com
Scoreinc.com, headquarter in Mayaguez Puerto Rico USA, with offices in Mobile Alabama, is a leading provider of services to the derogatory credit sector of the financial service industry through its Scoreway® Software Solution and credit report accuracy dispute services. The Scoreway® platform provides an end-to-end management solution that helps the companies that we serve manage the credit review and dispute process and to improve controls and profitability. Scoreinc.com services an ever growing list of mortgage company's, banks, credit unions, Realtors®, builders and credit service organizations through its innovative technology and credit report accuracy service. Contact Score for more information at 877-876-5921 or by visiting http://www.scoreinc.com.