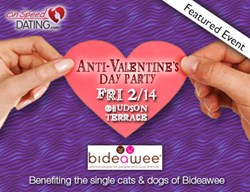 Going out on Valentine's Day almost guarantees that all of the 'singles' you're meeting are actually single.
New York, NY (PRWEB) January 22, 2014
Over 300 NYC singles ages 25-45 are expected to attend the cities largest Valentine's Day Singles Party taking place February 14, 2014 at west side hotspot, Hudson Terrace. Dating companies OnSpeedDating and SingleAndTheCity are donating 50% of event proceeds to Bideawee animal rescue in their effort to find loving animals forever homes. Tickets for this event are currently available for purchase online.
"We are so excited to make Bideawee our Valentine's Day charity partner for the third year in a row," says OnSpeedDating.Com co-founder, Amber Soletti. "Pets are a singles' best friend. We look forward to raising awareness and funds to help our furry friends find loving homes." Last year's Valentine's Day Event fund raising efforts generated over $2,000 for Bideawee.
In addition to it's annual fundraising efforts for pet rescue organizations, OnSpeedDating hosts two popular dating events catering to single pet lovers, "Puppy Love" Speed Dating for single dog lovers and "Purrrrfect Match" Speed Dating for single cat lovers.
This upcoming Valentine's Day Singles Mixer boasts drink specials, complimentary hors d'oeuvres, dancing, mingling, and "Love & Sex" tarot card readings where singles can learn about their relationship 'past, present and future' via NYC Love Guide and renowned psychic Maria Pirone. Professional photography has been generously donated by Baruch Santana Photography.
"I've met someone out every Valentine's Day for the past two years," says single New Yorker and marketing executive, Samantha Chavez, 34. "I actually look forward to being single on V-day, it's one of the best nights to meet someone."
If that weren't enough reason to participate, Soletti adds, "Going out on Valentine's Day in NYC is not only one of the biggest hook-up nights ever, you're also almost guaranteed that all of the 'singles' you're meeting are actually single."
In addition to the Hudson Terrace Valentine's Day Singles mixer on the 14th, the two dating services will also join forces to co-host a "30 First Dates" Speed Dating Marathon at The Watering Hole on Sunday, February 16th.
What: SingleAndTheCity/OnSpeedDating Valentine's Day Singles Mixer
Date: Friday, February 14th
Time: 6:30-10:00pm
Where: Hudson Terrace (New York City) 621 West 46th street
Registration & Cost: Pre-registration at OnSpeedDating.com and SingleAndTheCity.com $30.00 on-line and $40.00 at the door if space is available. 50% of event proceeds to benefit Bideawee Animal rescue.
OnSpeedDating is an innovative dating service created for savvy, swinging, city-dwelling singles who are tired of events geared to traditional criteria, like age range, income and personality IQ. What sets OnSpeedDating.com apart is its ability to foster personal connections through super "niche" singles events themed around people's dating "deal-breakers"; think physical preferences, political views, backgrounds, interests and even fetishes.
This online dating service produces singles parties, networking events, speed dating, wine tastings, dating advice and much more for singles of all orientations across Manhattan and the five boroughs.
SingleAndTheCity.com delivers quality and quantity by offering its diverse NYC clientele "themed" singles parties including a "Rescue Me" Fireman Singles Party, "Cougar/Boy Toy" Hunt, and "Size Matters" Soiree (for guys and gals with a hankering for height.) Between the two dating services, NYC singles can to attend six to eight events per month.
Upcoming Singles Events:
"Asian Persuasion" (for all men that want to date Asian women) –January 26, 2014
"Women With Accents Are Hot" Speed Dating– January 28, 2014
"Player's Night" Speed Trivia– January 29, 2014
"Afrodesiac" Speed Dating (for all women that want to date Black men) – January 29, 2014
"Beauty & The Geek Dating" (for self-proclaimed nerds and the women that love them) – February 1, 2014
Super Bowl Singles Mixer – February 2, 2014
"Size Matters" (for women that want to date men 6'1" and taller) –February 4, 2014
"Boy's Night" Speed Dating for gay men 35 and over –February 11, 2014
"Fitness Singles" Speed Dating –February 11, 2014