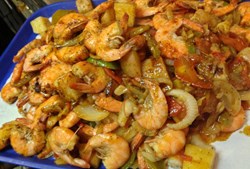 "We served hundreds of thousands of meals last year and each meal is always served family style with the basic ingredients picked by the diners themselves," said Mike Ungaro, Vice-President for San Pedro Fish Markets
San Pedro, CA (PRWEB) January 21, 2014
While shrimp prices doubled and other restaurants changed their offerings to make up for the pricing, San Pedro Fish Market maintained their high level of offering and saw its sales rise to an astonishing 125 tons of shrimp in 2013.
One of the only 3,000 seat dining complexes in the world, California's largest seafood restaurant also earned an amazing 3 Guinness World Records for serving thousands at the world's largest lobster festival in September 2013. San Pedro Fish Market had previously earned a Guinness World Record for the amount of seafood it served during a lobster festival as well, meaning it now holds four world records.
"We served hundreds of thousands of meals last year and each meal is always served family style with the basic ingredients picked by the diners themselves," said Mike Ungaro, Vice-President for San Pedro Fish Markets. "Our customers drive on average 30 minutes to enjoy our food. They understand high quality, great fresh ingredients, and they keep coming back."
Gaining tens of thousands of social media followers this year along with a 4 star review from Yelp through 249 reviews, San Pedro has begun in the last five years to be a launching pad for brands.
"Everybody brings a friend to San Pedro Fish Market. It's an entirely social, fun experience fueled by incredibly flavorful food," explained Ungaro. "Brands that were just starting out, including our own branded offerings, are now offered at hundreds of stores and across the country. People recognize them because of their placement on our counters and tables."
About San Pedro Fish Market & Restaurant
Founded in 1957, San Pedro Fish Market & Restaurant has grown into a top rated destination on the LA waterfront whose seafood, Lonely Planet described by saying, "Seafood feasts don't get any more decadent than at this family-run harbor-view institution." Routinely serving more than 10,000 diners each week, San Pedro Fish Market is also one of the most recognized brands in the frozen food section of premium and mass market supermarkets across the Southwest and Hawaii selling in four microwavable versions of our world famous shrimp tray. Just as at the restaurant and market, all ingredients are the freshest available and meant to be prepared and enjoyed directly in the kitchen with your favorite ice cold beverage. For more information, go to our website at http://ow.ly/obvmS.