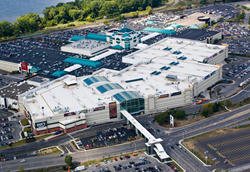 Syracuse, NY (PRWEB) January 23, 2014
Syracuse, New York is known for getting very cold during the winter months, at times accumulating multiple feet of snow within hours and temperatures dropping into the negatives. Even those from the Central New York area that are used to frequent whiteouts begin to think of different things to do to avoid the cold at all costs. With recent school closings, and to avoid cabin fever, Destiny USA provides the perfect place to take the family for a day of fun.
At Destiny USA, guests don't have to travel very far to shop, eat and play all under one roof. With retail stores, outlets, restaurants and entertainment venues continuing to open this year, there are always new places to visit, and even opportunities to help with those New Year's resolutions. The entire facility is equivalent to 3 miles and welcomes walkers to hang up their coats and do laps around each floor before the shoppers arrive. New healthy dining options have also been introduced, including Cantina Laredo's line of low-calorie drinks like the delicious Citrus Burst and Peach Berry Flaca Flips.
Destiny USA makes it easy to keep guests, family, and friends entertained for hours, and then some - all while steering clear of the frigid weather with a stunning three-story glass atrium that provides the perfect environment year-round.
At Destiny USA diners can eat at restaurants found across the country such as P.F. Changs, Cantina Laredo, Gordon Biersch, Texas de Brazil, World of Beer, and more. Those looking for a thrill can race an Italian-made specialty go-kart at Pole Position Raceway, or see a first-run 3D movie in a stadium seating IMAX theatre. They can then walk on over to the world's largest indoor suspended ropes challenge course at WonderWorks and test their balance, without stepping foot outside.
And maybe they'll even decide to do a little shopping at more than 200 different brand name stores, including outlets such as Saks off 5th, Michael Kors, Guess, Armani, Salvatore Ferragamo, and Hickey Freeman.
Destiny USA is far from the traditional shopping center that most people are used to visiting. There's even a nightlife scene in addition to the family entertainment venues on the unique third floor of the complex with Toby Keith's I Love This Bar & Grill, Dave & Busters, Funny Bone, and Revolutions' 24-lane boutique bowling alley. This mix of tenants, and their dedicated location on the upper level of the facility, cannot be found anywhere else in the United States.
Destiny USA is one of the first facilities to integrate an outlet and entertainment component into a fully enclosed facility and has transformed into a national destination, right in the heart of Syracuse. It is also the largest LEED Gold certified retail commercial building in the world, with creative and innovative green elements integrated into the expansion.
So don't worry about the cold winter weather. Regardless of the conditions outside, it's always perfect weather inside Destiny USA. Plan a trip at http://www.DestinyUSA.com.
Destiny USA is a 2.4 million square foot tourist destination in Syracuse, NY that includes a strong mix of luxury outlet tenants, restaurants and entertainment. New brands are continuing to open to create a unique and dynamic consumer shopping experience. A stunning three-story glass atrium provides perfect weather year round. Oxford Economics has projected an annual visitation rate of over 29 million visitors from throughout the U.S. and Canada. Destiny USA is expected to be the second most visited shopping center in the country, according to Travel and Leisure magazine. It is the largest LEED® Gold certified retail commercial building in the world.