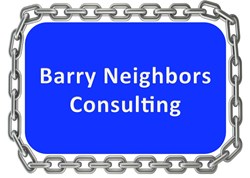 Larry brings a wealth of talent and experience to our endeavors.
Murrieta, California (PRWEB) January 23, 2014
In response to increased client needs and business expansion, Barry Neighbors Consulting is pleased to announce that Lawrence Gordon has joined our team as a Partner Consultant. Larry has more than 30 years experience as Sr. Director, Supply Chain Management, Vice President of Logistics, Plant Manager, World Wide Materials Manager and General Manager. His previous positions included DRS Technologies, Inc., United Defense, Motorola, and Intel. His work has spanned the entire Aerospace and Defense Industry.
He is a results oriented professional with successful experience in all facets of Supply Chain Management. His strong communication and interpersonal skills have allowed him to develop customer and team relations to achieve results and generate increased revenue and profit. Highly skilled at analyzing processes, identifying project needs, problem solving, and presenting alternatives to achieve results.
A Graduate of Arizona State University, he received his Green Belt from the Fulton School of Engineering at Arizona State University. Awarded Lifetime Certification /National Association of Purchasing Managers. Contracts Paralegal Training at the Center for Executive Development, Arizona State University Studied under DR. W. Edwards Deming.
Barry Neighbors Consulting, an aerospace and defense supply chain consulting company offers critical insights and customized solutions to A&D suppliers to boost their market share and revenue. Our user-friendly website showcases the business solutions offered by the firm with the full range of their services, an informative blog and testimonials from previous clients.
Barry Neighbors Consulting partners with aerospace and defense suppliers to design the best strategy and approach in this increasingly competitive market. With extensive experience in the industry, Barry Neighbors Consulting focuses on the supply chain requirements and is able to offer expert advice and guidance, together with sales and marketing development, to suppliers, resulting in increased sales and improved profits. The company offers OEMs (original equipment manufacturers) and larger contractors a process-oriented approach to assessing, managing and optimizing their supply chain.