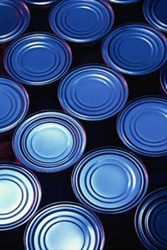 National Canned Food Month celebrates the versatility of canned foods and helps to inform the public about nutritional information for this often more cost-effective alternative.
Denver, CO (PRWEB) January 22, 2014
Lightning Labels, leader in printing custom labels and stickers, is helping businesses target specific markets on can labels to prepare for National Canned Food Month in February. Label space can inform consumers of the many benefits of eating and preparing meals using food in cans. Since these products are so diverse, shoppers from many different market groups will be buying them. It is a good idea to design custom canning labels with the target consumer in mind.
"National Canned Food Month celebrates the versatility of canned foods and helps to inform the public about nutritional information for this often more cost-effective alternative to fresh foods," said AnneMarie Campbell, Business Development Manager at Lightning Labels. "Brands can use this opportunity to take a closer look at labeling strategies for canned goods and increase sales."
During this time of the year, consumers are going to be scrutinizing packaging more closely. Take advantage of the month-long event and educate consumers on the benefits of stocking up on canned goods for their families.
Labeling Canned Food for Nutrition Can Help Grow Sales:
It's important to be detailed when labeling canned food for nutrition. Target canned food labels toward consumers for whom price is an important part of the decision to purchase. Canned vegetables, fruits and soups offer healthy alternatives to fresh produce, which is often expensive. Using a detailed label, informs customers of the nutritional benefits of canned foods. While a certain amount of nutritional details are necessary on every food label, use the additional space to expand upon why certain nutrients are important. Also, including serving suggestions on the packaging is a good way to engage customers.
Canning Labels for Health-Oriented Shoppers:
Customers often look at canning labels for health information. Nutrition is one thing, but canned goods are also long-lasting and slow to spoil. The benefit of a long shelf-life is a good thing to include on labels. Encourage consumers to use your products for food drives. Both healthy and long-lasting, canned items are an ideal donation for individuals in need. Buying canned foods in bulk is cost-effective because the price per item is reduced and they can last a long time in storage.
Fully recyclable, cans are also an eco-friendly alternative to plastic packaging. Be sure to include a reminder to recycle the can once the product has been used. As a reminder to those interested in designing updated canning labels, Lightning Labels offers free ground shipping for all orders placed online and shipped within the U.S. and Canada. Visit Lightning Labels.com for more information or updated promotions.
About Lightning Labels:
Lightning Labels uses state-of-the-art printing technology to provide affordable, full-color custom labels and custom stickers of all shapes and sizes, and now offers a full line of custom packaging products. From small orders for individuals, to the bulk needs of big businesses, Lightning Labels is equipped to handle and fulfill sticker, label and product packaging projects of all types. Best of all, like the name implies, Lightning Labels provides a quick turnaround to every customers' labeling and product packaging needs. Uses for Lightning Labels' custom product labels and custom stickers include food packaging and organic food labels, wine and beverage labels, bath and body labels, and nutraceutical products, such as vitamins, essentials oils, and herbal remedies, as well as event stickers, adhesive window stickers and more. Lightning Labels strongly supports the development of environmentally friendly printing materials and carries EarthFirst PLA, a new kind of green label material made from corn instead of petroleum. While operating as a high-tech printer, Lighting Labels prides itself on its personalized customer service. Lightning Labels provides one stop shopping for all of your label and product packaging needs. For more information and to place orders online, visit LightningLabels.com. For the latest in packaging news and labeling promotional offers, find Lightning Labels on Facebook, Twitter (@LightningLabels), Pinterest, Google + and LinkedIn.