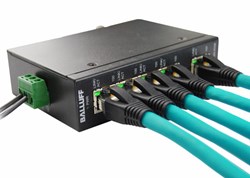 Florence, KY (PRWEB) January 23, 2014
Industrial Ethernet is growing as the accepted network in the industrial environment due to its speed and data visibility. While Cat5E is the base requirement for industrial Ethernet, when working with a specific network like EtherNet/IP or PROFINET, higher requirements are a must with the components in the network. What really helps or hinders the quality of the network is the cables - they connect everything together. Available with M12 D-coded and/or RJ45 connectors, Balluff's 4 conductor cables are great for almost any industrial Ethernet application.
Features of Balluff's Industrial Ethernet Cables:
PUR Shielded Starquad Flex 2 million

Suitable for Profinet network
4 pole, 22 AWG
Halogen Free
TPE Shielded Flex 5 million

ODVA compliant, Cat5e rated
Chemical, Oil and UV resistant
600V Rated, 2 pair 24 AWG
PVC Shielded STP

Shielded (F/UTP) Flexible patch/jumper cable
Cat5e rated
Fire and chemical resistance
TPE Unshielded Flex 10 million

ODVA compliant, Cat5e rated
Fire, UV and low temperature performance
Mechanical and Chemical resistance
TPE Shielded STP 2 pair: FT1

Basic Ethernet cable
2 pair, 22 AWG
FT1 rated
Click here for more information on Balluff's selection of Ethernet cables.
Download the high resolution image on Flickr.