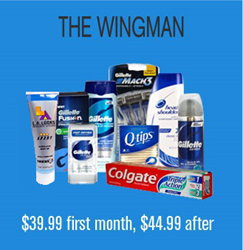 We take care of the basics so guys don't have to. It's like a getting a care package from mom!
(PRWEB) January 28, 2014
GuysEssentials.com has today debuted an innovative answer to a serious hurdle faced by the "typical guy" – how to stay stocked up on essential items like shaving cream, razors, toothpaste, shampoo, socks, underwear, and the like.
Bill Sobolow, the founder of and brain behind GuysEssentials.com, says, "It's about time – guys are busier than ever. This generation works a lot, and there's just no time to worry about little things. Having these items delivered right to their door makes a lot of sense. I realized that most guys overlook all the things mom did for them, like keeping the shampoo and toothpaste stocked up. Most guys don't realize this until they get out on their own. Suddenly, there's no one making sure all those little essentials are taken care of. That's what we do here at GuysEssentials.com. We take care of the basics so guys don't have to. It's like a getting a care package from mom!"
GuysEssentials.com lives up to its name. The home delivery company offers four innovative options for guys in need of a helping hand with keeping their essentials and offers free shipping on orders at $95.
1. The Rookie – The company's base package is $24.99 plus shipping, but first-time orders are only $19.99. It's a budget-friendly package and includes toothpaste, bar soap, shaving cream, aftershave, disposable razors and more.
2. The Wingman – The next package up is The Wingman, which will run buyers $44.99, but is $39.99 the first month. It's Gillette-centered and includes a month's worth of supplies, including Q-Tips, aftershave, toothpaste, hair gel, razors, shampoo and additional items.
3. The Ladies Man – The third package offered runs $64.99 and is $59.99 the first month. It includes a month's worth of products designed for "the ladies' man". Axe shower gel, shampoo, hair product, and deodorant are prominently featured, in addition to Gillette razors, shaving cream, and other vital essentials.
4. Be Your Own Man – For guys determined to do their own thing where their essentials are a big concern, GuysEssentials.com offers the Be Your Own Man package. Buyers can personalize the personal care products they prefer delivered on their terms.
When asked about his reasons for starting GuysEssentials.com, Bill Sobolow answered, "If we can make one less thing for a guy to worry about and to give him more time, then we have achieved our goal. Guys aren't necessarily lazy, we'd just rather not have to worry and not have to think about it. Life is short. Shouldn't you be doing the things that inspire you and not wasting time on the little things?"
That's exactly what GuysEssentials.com provides. Guys no longer have to worry about running out of personal care products – they're delivered right to the door. In an age where we get our movies, contact lenses and video games in the mail, there's no reason a guy can't have all of his manly essentials delivered as well.
To learn more about GuysEssentials.com or to sign up for a delivery option, visit the company at http://www.GuysEssentials.com. Feel safe giving it a try as there are no minimums, commitments and orders can be changed at any time.
About GuysEssentials.com: GuysEssentials.com takes the place of mom for the typical guy. The company supplies "the essentials" so that guys don't have to spend valuable time worrying about restocking their toothpaste, or if they purchased deodorant at the store last week. It's about saving time and hassle, while getting a care package just like mom would send.