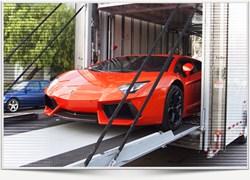 Above and Beyond Auto Transport.
(PRWEB) January 22, 2014
Corsia Logistics has been expanding and now the team has grown to serve more routes. The service areas now cover all major snowbirds locations including Florida, Arizona and Texas. Corsia provides personalized attention and fair market rates for all snowbirds from across the country. Some big companies are trying to dictate the car shipping prices, especially during snowbirds season, but Corsia Logistics is committed to offering affordable auto transport. The small team at Corsia Logistics is knowledgeable and provides services tailored to their customers' needs.
"We know how it feels to hand your car keys to a person you don't know. When it comes to snowbirds, we want to make sure that these retirees know every step of the process. Personal attention is always the priority. We don't speak in stock phrases. We talk to customers like friends, and explain how car transport works and what factors affects the car shipping cost," said Ms. Atanasova, Marketing and Outreach Manager.
Corsia Logistics car transport services to Florida, Arizona and Texas have three main advantages:
1.) the company offers affordable, manual car shipping quotes
2.) they work only with verified, licensed and insured carriers
3.) the small team provides personal attention to every customer
Manual quotes means that the company process each quote request manually and the quotes is based on the agent's professional opinion, it is not automated calculation. The request is taken to the national dispatch board for comparison of current prices and then the agent sends a customized quote. Every snowbird transporting an automobile to Florida, Arizona or Texas, receives manual rate. The car transport carrier Corsia Logistics hires is always experienced, with verified license and insurance and high safety ratings.
Corsia Logistics' home state California is their primary auto transport services area. Now, however, the company is proud to offer quality auto transport to all snowbirds moving not only to California, but to all other popular snowbirds locations. This expansion is based on new connections and partnerships the company has been working on in the past months. Now, the team has the power to cover major routes to Florida, Arizona and Texas from all over the country, and help snowbirds relocate.
Corsia is proud to be one of the car shipping companies in California committed to providing personal care and affordable service. The team offers the two most popular methods of transport to all snowbirds - open and enclosed auto transport to and from any state in the US.
ABOUT CORSIA LOGISTICS
Corsia Logistics is California-based company, and in the beginning served only within the state borders. The company has been slowly expanding to provide great auto transport services nationwide. Corsia offers free vehicle shipping quotes and reliable services to all customers. We have earned the trust of many companies already. We provide transport for standard, sports, custom and classic vehicles. Visit us online at http://www.corsia.us to learn more or call (818) 850-5258.