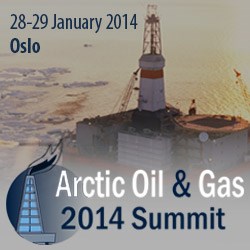 It's an IRN Summit!
(PRWEB UK) 22 January 2014
Globally operating companies, such as Lukoil, Lundin, Faroe Petroleum, Total E&P, BG Group, GDF Suez will be part of the speaker faculty and the senior level delegation.
Governmental Officials such as the Canada's Ambassador to Norway, the Norwegian Arctic Ambassador, the Hydrocarbon Licensing Manager of the National Energy Authority in Iceland, the Head of the Industry Department at the Norwegian Environment Agency, Senior Analyst at the Ministry of Foreign Affairs of the Russian Federation and the Secretary General at EU-ARCTIC Forum will be delivering presentations at the Summit.
Experts from the Institute of Oil and Gas of the Russian Academy of Sciences, the Norwegian University of Stavanger, the Norwegian University Centre in Svalbard, the Arctic Institute to the Norwegian Institute for Defence Studies, the Barents RU-NO project on Environmental protection, the Wageningen University and Research Centre in Netherlands will advise on how to safely approach the rich Arctic regions.
Arntzen De Besche, amongst the leading law firms in Norway with extensive expertise in providing legal services for the energy industry, is a Gold Sponsor of the Arctic Oil & Gas 2014 Summit and will provide insights on the challenges and opportunities for international cooperation in the Arctic. The Summit will be sponsored also by Selmer, one of the largest corporate law firms in Norway; CGG, the globally operating integrated Geoscience company; ESS MARINE, the wholly owned subsidiary of GGS, the green solutions onshore & offshore provider.
The Association of Oil and Gas Suppliers - SOZVEZDYE, the Norwegian Oil Spill Control Association - NOSCA, and the International Association of Geophysical Contractors - IAGC are officially supporting the summit.
More information about the summit and IRN can be found on the website http://www.oilgasarctic.com.