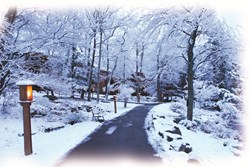 Hawley, PA (PRWEB) January 22, 2014
As New York City and Northern New Jersey spruce up for their first Super Bowl, Woodloch Pines Resort is rolling out the welcome mat to skeptical New Yorkers wanting to beat the crowds. New York City is projected to see an additional 400,000 visitors and Super Bowl Boulevard will close streets from 34th Street to 47th Street in the days leading up to Super Bowl XLVIII.
Woodloch Pines Resort is a perfect family-friendly escape from the chaos while still taking advantage of the excitement of this first cold weather Super Bowl in the Northeast. This all-inclusive Poconos resort offers cozy special rates and activities for Super Bowl Weekend with rates starting at $199 per adult, per night*. Activities will include the famous Scavenger Hunt, football trivia, Winter Olympics, snow tubing and a viewing party in the Nightclub on big screens with a half-time buffet of game-time favorite foods.
Woodloch Pines Resort is the perfect winter weekend escape for families looking to reconnect and celebrate together. With a variety of accommodations styles and activities to engage family members from ages 2 to 92, it is no wonder that the resort earned the #2 Family Resort in the nation by TripAdvisor Travelers Choice Award. For booking and additional information on the all-inclusive weekend escape, call 1.800.WOODLOCH or visit woodloch.com.
For those celebrating game day in the comfort of their own home, the chefs at the Poconos family resort have shared their famous Woodloch Chili Recipe to spread the winning spirit:
INGREDIENTS:

2 large fresh onions, coarse chopped (1 ½ cups)
1 ½ tsp. minced garlic
1 large chopped tomato
3 mild or hot green chilies
1 ½ cup beef broth
2 Tbsp. bacon drippings
3 lbs. lean beef chuck, cut into ½ inch cubes
6 Tbsp. pure ground hot chili
3 Tbsp. cumin
2 Tbsp. pure ground mild chili
1 tsp. sea salt
½ tsp. freshly ground black pepper
Water
1 Tbsp. crushed chili Caribe or red pepper flakes, to taste
1 tsp. dried oregano, soaked in ¼ cup warm beer
1 Tbsp. cider vinegar
1 Tbsp. tortilla flour or cornmeal
INSTRUCTIONS:
Melt bacon drippings in large Dutch oven or heavy pot. Add meat in 2 batches if necessary & cook on all sides until it loses its pink color. Add onions, ground hot chili, cumin, ground mild chili, garlic, salt and black pepper. Add water to barely cover the meat, bring to a boil, reduce heat and simmer uncovered 1 to 1 ½ hours until meat is almost tender, adding more water if needed. Add 1 cup of beef broth to the chopped chilis, tomatoes, chili Caribe, oregano-beer mixture & vinegar. Simmer uncovered for 30 minutes, stirring often. Stir tortilla flour into remaining ½ cup beef broth, then stir into chili & simmer 15-20 minutes until meat is very tender and sauce is red-brown.
About Woodloch Pines Resort:
Creating a magical experience for families since 1958, Woodloch Pines Resort's signature warm hospitality keeps guests returning year after year and offers a truly unique all-inclusive family vacation experience fitting for everyone's taste. An award-winning family resort, championship golf course and sister property featuring a luxury destination spa are just 95 scenic and convenient miles from New York City nestled in the Pocono Mountains Lake Region. For additional information, call Woodloch Pines at 1.800.WOODLOCH or online at woodloch.com.
CONTACT:
BROOKE JENNINGS ROE
CELL: 347.256.1598 OR BJENNINGS(at)THELODGEATWOODLOCH(dot)COM