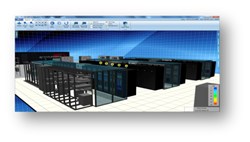 The best 3D Enterprise DCIM Software on the market just got even better.
Tampa, FL (PRWEB) January 29, 2014
This latest release builds on Visual Data Center's 3D DCIM platform by enhancing the provisioning and management of multi-phase power circuits and breakers as well as enhancements to VDC Work Order, Extended Language support and the integration with Computer Associates 3rd Party products.
"We feel that the best 3D Enterprise DCIM Software on the market just got even better," said Steve Webel, Optimum Path Inc. COO. By working with our partners and customers we have enhanced our 4th generation of Visual Data Center to support true end-to-end Data Center Infrastructure Management in nearly every country."
Originally released in 2007, New Enhancements to the Fourth Generation of Visual Data Center include:

Support for 3-phase power and PDU breaker/circuit provisioning.
Enhancements to CA® IT Process Automation Manager integration.
Enhancements to VDC work order system, and VDC network visualization and management.
Extended language support for German, French, Spanish, Brazilian-Portuguese, and simplified Chinese.
If you would like to see why Optimum Path Inc. is today's fastest growing DCIM 3D software company and why they were named Gartner® Research's "Cool DCIM Vendor", please contact us at http://www.optimumpathinc.com to schedule a personal consultation.