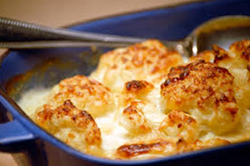 (PRWEB) January 31, 2014
Fewer things are more romantic than an evening spent at home together with a loved one, a bottle of wine and a delicious homemade meal, which is why the chefs at GetMaineLobster.com are constantly creating new recipes to share with lovers of seafood. And its latest Valentine's Day dinner recipe, Lobster and Truffle Potato Au Gratin, is nothing short of perfection.
With fresh Maine lobster and russet potatoes elegantly coated with a creamy mixture of gruyere cheese, garlic, thyme and white truffle oil, every bite of this easy-to-prepare dinner will be savored.
"This is a very robust and classic-tasting dish that will impress anyone and embrace them with that warm fuzzy feeling," says GetMaineLobster.com chef Mac Arrington. "The lobster and truffle flavors are brought out beautifully by the creamy potatoes and salty gruyere."
This Valentine's Day, create lasting memories with that special someone while creating a delicious and decadent meal for two.
Browse Get Maine Lobster's wide range of seafood offerings, access other healthy lobster recipes or view current specials by visiting GetMaineLobster.com or call (866) 562-4817. Stay updated and Like us on Facebook or follow us on Twitter.
About GetMaineLobster.com
GetMaineLobster.com, a division of Black Point Seafood and Black Point Gourmet, hand-selects the finest Maine lobster, seafood and beef products for convenient distribution throughout the United States. Their passion is to make fresh, quality seafood readily available to customers across the country, which is why they buy from only the most trusted, well-established suppliers to ensure that they receive the finest products available.
GetMaineLobster.com was selected out of the more than four million small American businesses served by Chase bank to represent its new Platinum Business Checking product for its 2013 national advertising campaign.