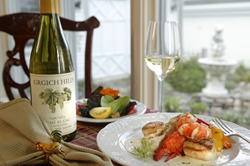 (PRWEB) January 23, 2014
GetMaineLobster.com has unveiled an assortment of Valentine's Day Maine lobster dinner specials, and is now offering exclusive savings of 50 percent off of the retail price. This is a great opportunity to create a romantic evening with that special someone instead of dealing with restaurant crowds and overpriced meals. Simply light some candles, uncork the wine and enjoy a delicious meal delivered directly from dock to doorstep.
Truly inspiring and impossible to resist, the Maine Lobster Tail and Classic Beef Wellington Dinner shines with its USDA choice Beef Tenderloin in a mushroom duxelle made with Parmesan cheese, white wine, cream and shallots enrobed in a flaky puff pastry. Now available for just $81.50, this classic dinner includes two three- to four-ounce Maine lobster tails, two nine-ounce Beef Wellingtons, two crab cakes and one quart of clam chowder. Equally as delicious is the Maine Lobster Tail and Salmon Wellington Dinner for only $74.00. This meal includes the same delicious Maine seafood, but with two eight-ounce Salmon Wellingtons.
A favorite among seafood lovers, the Valentine's Day Lobster for Lovers dinner special includes four three-ounce Filet Mignon, two four- to five-ounce lobster tails, two eight-ounce homemade Maine lobster stews, two crab cakes and two homemade whoopie pies. Now available for only $85.00, GetMaineLobster.com challenges anyone to find a more well-rounded, delicious meal that inspires feelings of passion.
For those looking for the best way to experience all that Maine seafood has to offer, look no further than the Valentine's Day Surf and Bake for only $91.00. This seafood dinner delight includes two three- to four-ounce Maine lobster tails, eight ounces of mussels, eight bay scallops, four Atlantic crab claws, four shrimp, two corn on-the-cobs, and an additional two four- to five-ounce lobster tails with four three-ounce Filet Mignon.
To enjoy any of these delicious Valentine's Day Maine lobster dinners at a discount of 50 percent off of the standard price, simply enter coupon code VDAY50 upon checkout and make sure to check out GetMaineLobster.com's own Valentine's Day dinner recipes, such as the Lobster and Truffle Potato Au Gratin.
Learn more about GetMaineLobster.com, browse its wide range of seafood offerings, and access lobster recipes or view weekly holiday seafood delivery specials by visiting GetMaineLobster.com or call (866) 562-4817.
About GetMaineLobster.com
GetMaineLobster.com, a division of Black Point Seafood and Black Point Gourmet, hand-selects the finest Maine lobster, seafood and beef products for convenient distribution throughout the United States. Their passion is to make fresh, quality seafood readily available to customers across the country, which is why they buy from only the most trusted, well-established suppliers to ensure that they receive the finest products available.
GetMaineLobster.com was selected out of the more than four million small American businesses served by Chase bank to represent its new Platinum Business Checking product for its 2013 national advertising campaign.