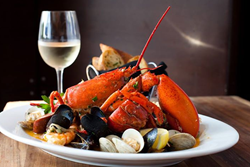 (PRWEB) January 24, 2014
A recent National Restaurant Association survey of nearly 1,300 chefs and members of the American Culinary Federation have identified the top ten food trends for 2014 as part of a What's Hot culinary forecast for 2014. This is an indicator of what individuals are likely to see on restaurant menus this year. Among the top ten forecasted menu trends include locally sourced meats and seafood, gluten-free cuisine and sustainable seafood.
At GetMaineLobster.com, a live Maine lobster and seafood delivery service, sustainable seafood is at the heart of the company's mission. Mark Murrell, its founder and CEO, was born in Maine and started the company in order to share the Maine seafood experience with everyone throughout the United States. It is his love of what Maine has to offer that drives his passion while sourcing seafood in a responsible manner to ensure the health of the lobster industry for years to come.
"GetMaineLobster.com knows that traceability and sustainability are important to preserving the luxury of Maine lobster," says Mark Murrell, founder and CEO of GetMaineLobster.com. "By protecting the Maine lobster resource today, we ensure that future generations can enjoy."
At GetMaineLobster.com, Maine lobster is of the highest quality and comes from a well-managed, sustainable fishery. The Maine lobster industry is the model of a well-managed fishery—ensuring that both the Maine lobster resource and the coastal marine environment are protected.
It is important for the live Maine lobster and seafood delivery service to let consumers know about its sustainability practices, as well as the health benefits of lobster for those that follow a Paleo or gluten-free diet, a trend that nearly 1,300 culinary experts agree will only continue to grow and become more prevalent on restaurant menus.
To learn more about GetMaineLobster.com, browse its wide range of seafood offerings, and to access lobster recipes or view weekly holiday seafood delivery specials, visit GetMaineLobster.com or call (866) 562-4817.
About GetMaineLobster.com
GetMaineLobster.com, a division of Black Point Seafood and Black Point Gourmet, hand-selects the finest Maine lobster, seafood and beef products for convenient distribution throughout the United States. Their passion is to make fresh, quality seafood readily available to customers across the country, which is why they buy from only the most trusted, well-established suppliers to ensure that they receive the finest products available.
GetMaineLobster.com was selected out of the more than four million small American businesses served by Chase bank to represent its new Platinum Business Checking product for its 2013 national advertising campaign.