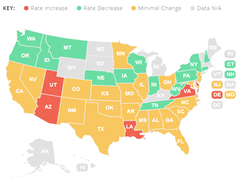 New Jersey auto insurance consumers saw the greatest increase, up 24.2%.
Wilmington, NC (PRWEB) January 23, 2014
HomeInsurance.com released their latest 12-month auto insurance premiums today in the Auto RateReport showing average premiums in the U.S. at $987. Premiums reflect policies placed in December 2013, and are about 2.9% less than in the same month of 2012. The report shows that average premiums have decreased nearly 14% since December 2011.
"Our RateReport represents a great starting point for consumers," said Jana Bell, Vice President of HomeInsurance.com. "Premiums will always vary from policyholder to policyholder because of the differences in coverage and limits from driver to driver, not to mention differences in driver history. Some drivers also qualify for more discounts than others."
Premiums also differ by state due to different minimum coverage requirements and other factors. New Jersey drivers are seeing the highest 12-month premium average in December 2013 at $1,406, while Idaho drivers are paying some of the lowest– at $655. Other states with higher auto insurance premiums included Louisiana, $1,405; Connecticut, $1,380; New York, $1,328; and Michigan, $1,257. After Idaho, the states with the lowest premiums were Iowa, $687; Vermont, $696; Indiana, $756; and Nebraska, $786.
Overall, premiums increased year over year in 17 states. New Jersey auto insurance consumers saw the greatest increase, up 24.2%. As for the greatest decrease, Idaho auto insurance consumers saw premiums fall 23.8%.
For more state-specific premiums over the past 12 months, visit the Auto Insurance RateReport here.
About HomeInsurance.com:
HomeInsurance.com, LLC is a BBB A+ rated insurance marketplace offering homeowners in 44 states comparative rates on home and auto insurance from top-rated carriers such as Travelers, The Hartford, Safeco Insurance, Progressive, MetLife, Liberty Mutual, ASI, and Foremost. The Auto RateReport shows the average premiums on policies sold by HomeInsurance.com over the past 12 months. It includes premiums paid by roughly 55,000 U.S. drivers.
Media Contact:
Carrie Van Brunt-Wiley
Editor of HomeInsurance.com
cvanbrunt(at)homeinsurance(dot)com
http://www.homeinsurance.com