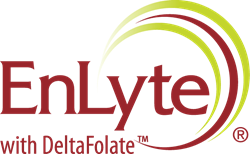 EnLyte is the natural, safe agent that finally addresses the root cause of depression rather than symptomatic relief.
Sunset, Louisiana (PRWEB) February 04, 2014
Louisiana-based pharmaceutical company, JayMac Pharmaceuticals LLC, announces the introduction of EnLyte with Delta Folate. This is the first advanced generation folate prescription containing the optimal combination of three forms of folate, as well as B-vitamin metabolites, all proven effective in the dietary management and treatment of mild, moderate, and severe depression.
Over 120 million people worldwide are afflicted with depression, but until now current prescription options fell short in solving this common problem. Serious side effects, drug interactions, and cost are just a few of the reasons the introduction of EnLyte into the natural pharmaceutical market is the answer to this large unmet need. EnLyte contains Delta Folate: a combination of L-Methylfolate Magnesium, Folinic Acid, and Folic Acid, plus all of the refined metabolites and minerals needed to optimize the brain's production of neurotransmitters, the chemicals deficient in depression.
EnLyte is a welcome addition to this market, at a time when leading authorities are endorsing the use of folates. Lawrence Ginsberg, MD, Red Oak Psychiatry and leading authority on depression research and treatment states, "Folate therapy is the essential cornerstone in the treatment of all patients afflicted with depression." Furthermore, both the American Psychiatric Association (APA) Guidelines and The American Journal of Psychiatry recommend the use of folate supplementation in depression.
Recent research has uncovered the clear link between genetics and depression, and a more complete natural alternative was needed. According to Andrew Farah, MD, High Point Division of UNC,"70% or more of us have a genetic basis for depression: an inability to produce the necessary neurotransmitters, especially in times of stress, and this is because B vitamins are needed in those chemical reactions, and we are unable to break down B vitamins or folate taken in from over-the-counter preparations or diet."
EnLyte is designed to supply all the brain-ready metabolized ingredients necessary to get to the root cause of depression, without the common side effects associated with typical antidepressants. "That's the #1 reason most people don't complete their recommended therapy-they don't like the side effects," states Dr. Farah. Because it contains natural ingredients, the side effects of this new agent are similar to placebo, and there are no drug interactions for patients or physicians to be concerned about. It's also third-party certified gluten-free. In fact, EnLyte is so safe, it has approval for use in pregnant and lactating women: "I highly recommend the use of EnLyte in women who are pregnant or planning to become pregnant." Dr. Ginsberg states.
New research suggests that the combination found in EnLyte is also effective in reducing Homocysteine (HCY), an amino acid found in the body, that has been linked to the development of depression, Alzheimer's Disease, stroke/vascular disease, and birth defects. EnLyte is a prescription therapy, recognized by most insurance companies nationwide, with plans to expand globally. T owny Robinson, CEO/JayMac Pharmaceuticals and co-inventor of EnLyte: "Exhaustive research with the Psychiatric medical community went into developing this new choice for depression. We've worked hard scientifically to provide a more complete, more effective, and more affordable option than was currently available."
About EnLyte
EnLyte is the first and only prescription folate therapy containing L-Methylfolate Magnesium, Folinic Acid, and Folic Acid, and all the necessary B-vitamin metabolites, in optimal doses, to completely address the remethylation and transsulfuration cycles and reduce Homocysteine.EnLyte is indicated for adjunct or monotherapy in mild, moderate, and severe depression, and is pregnancy category A for use in pregnant and lactating women.
About JayMac
JayMac Pharmaceuticals, LLC is a Sunset, Louisiana-based pharmaceutical company gaining interest with the introduction of EnLyte into the psychotropic and psychiatric market.