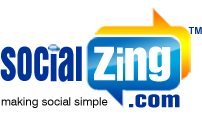 Bedford, PA (PRWEB) January 23, 2014
SocialZing.com is proud to announce that they have hired Brian McLane as their new Chief Marketing Officer.
CEO Scott Brodkorb states, "We are pleased to announce the addition of Brian McLane to our team. Brian brings over 20 years of marketing experience with him that we will leverage to produce cutting edge marketing strategies which will keep SocialZing.com ahead of the competition."
Mike Boggs, COO explains, "It is not often a company in the direct sales industry is able to attract a marketing professional like Brian McLane. He has proven himself as a powerhouse in the networking industry and his resources and experience is a true asset to SocialZing.com. We are flattered he shares our vision and passion and has agreed to join our team."
"Rarely do I see a company with all of the assets of SocialZing.com," says McLane. "Social media continues to grow and become a powerful tool to small businesses, consumers, entrepreneurs, students and independent business owners. The suite of tools that SocialZing.com provides is impressive, and the direct sales distribution channel they have chosen will grow international, quickly. The quality services, experienced management team, savvy technology staff and international opportunity, will allow SocialZing.com to set a benchmark in which all other direct sales companies will be measured."
About SocialZing.com
SocialZing.com provides cutting edge tools that allow business owners, and consumers to manage all of their social media from one simple dashboard. Dramatic changes are taking place regarding the way individuals and organizations prospect. Traditional methods of outreach have been around for years such as cold calling, direct email, and email blasts. But today, with the advent of social media, smart phones and Internet communications; the models and channels of prospecting have mushroomed. Now with SocialZing you can extend beyond your warm market into new markets that years ago could never have been reached.
Contact
To learn more about SocialZing, please visit http://www.socialzing.com
Robert Alvarez
1655 Burlington Pike, #221
Florence, KY 41042
Office: (859) 817-9403
Fax: (928) 244-8403
robert@socialzing.com