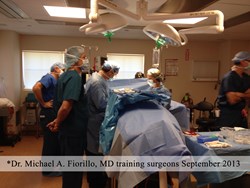 Pearl River, NY (PRWEB) January 23, 2014
Dr. Michael A. Fiorillo is a leading plastic surgeon known worldwide as an authority in his field. He is double board certified in both plastic surgery and reconstructive surgery, and specializes in breast and body procedures.
In February 2013, Dr. Fiorillo traveled to Sweden to receive advanced training in Gummy Bear breast implant procedures. Gummy Bear breast implants are the latest generation of breast implants with the most natural look and feel compared to other breast implant options available. They are cohesive so that even when cut, there is no leakage or change in shape, giving them a much lower rate of complication than other silicone breast implant options.
The FDA-approved implants last much longer because of their lower rupture rate and come in several shapes and sizes so that they can be customized for each woman's body. For these reasons and many others, Dr. Fiorillo chooses Gummy Bears as his number one option for breast surgeries.
After training in Sweden, he also became one of only four surgeons in the United States who has been appointed to train other plastic surgeons on the Gummy Bears procedures. He now holds regular training sessions at his Advanced Plastic Surgery Center in New York. Surgeons from all over the country travel to his center to watch live surgeries being performed using Sientra's® Gummy Bear breast implants.
His next training day is scheduled for January 28th, 2014. Women who are interested in participating can receive a discount if they call now and schedule their consultation before the next training day. On January 28th, doctors from across the United States will travel to Pearl River, New York to watch Dr. Fiorillo perform multiple Gummy Bear breast implant surgeries. The attending doctors will not actively participate in the surgeries, so patients can rest assured that only their trusted surgeon will be performing their surgery. This opportunity allows other doctors to learn the appropriate techniques so that more women across the country can safely choose Gummy Bears as their preferred implants.
Gummy Bears are medically approved for both breast augmentations and reconstructive surgeries. Whether a woman wants to increase her size, regain her shape after pregnancy, or rebuild her body after surviving cancer or an accident, Gummy Bears can offer a variety of options to choose from.
Dr. Fiorillo believes that every woman should look as beautiful on the outside as she feels on the inside. He is offering special rates for women who are interested in participating in his training session days. To learn more about Gummy Bear breast implants, visit http://www.gummybearbreastimplantsnewyork.com or call his Advanced Plastic Surgery Center at 845-623-6141 to schedule a consultation.
Dr. Michael A. Fiorillo
150 South Pearl Street
Pearl River, NY 10965
845-623-6141
http://www.drfiorillo.com
https://www.facebook.com/DrFiorillo